As a real estate broker that specializes in Midtown Atlanta real estate, a question that comes up more often than not is, "Will my view stay like this?" And this question comes when we are looking out the windows, or better yet, standing on the balcony. When a construction crane is in sight…..all the more!
Will Seventh Midtown Block My View at Viewpoint Midtown?
The Midtown fixture and central meeting spot, Starbucks at 7th Street has seen the bulldozer as construction begins on the new condo building, Seventh Midtown. And potential buyers at next door Viewpoint Midtown are asking, "Will Seventh Midtown Block my view at Viewpoint Midtown?
The good answer is….NO!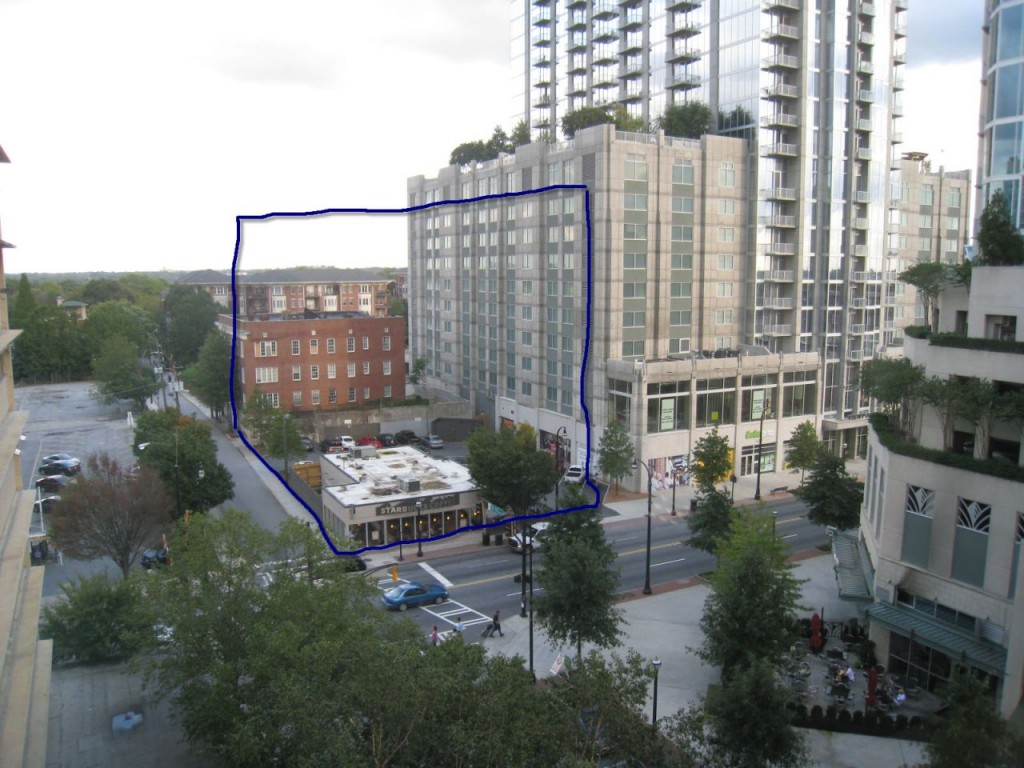 This photo obviously still shows the Starbucks building, but my shaky hand has drawn a square approximately where the Seventh Midtown building will be located. As you can see, it is to be 10 stories and should not rise above the 11th Floor Zen Garden at Viewpoint.
If you are looking to purchase a condo in Viewpoint Midtown, the unit numbers that face North would end in 02,04.06,08,10,12 and 14. So if you were looking at 1104, first off you would have a limited view anyways, as you are right on the Zen Garden level. But you would not see the top of Seventh Midtown. Additionally, if you went up to say 1710, you would look down, and see the rooftop of the new building, but it would not impact your view.
I always tell my clients that you can never guarantee your view, but with my knowledge of the market in Midtown, I have a pretty good idea of what is going where, or what could go in a particular location. That information can help you make a more informed buying decision.
Looking for a Midtown Atlanta condo? I'd be happy to help!