Yes, you heard that right! There are new construction cranes in Midtown Atlanta! A welcome sight for a troubled economy indeed!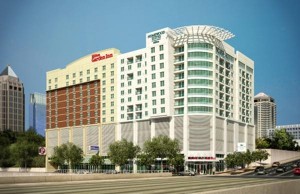 One of those Midtown Atlanta construction cranes is at 10th and Williams Street (Or the Downtown Connector) where the new Hilton Garden Inn/Homewood Suites hotel is under construction!  What a beautiful building that will be to visitors arriving into Midtown via the 10th Street Bridge! It's convenient to all the Midtown Atlanta law offices, and to Turner Broadcast Systems (TBS) and the new GATech Basketball stadium!
Construction Cranes are also appearing on the Midtown Atlanta skyline at two new luxury high-rise apartment buildings that have broken ground. Ironically, they are BOTH on 12th street…if you can imagine that! One is part of the 12th and Midtown Development where 1010 Midtown is located. The second, located at 12th and West Peachtree has also just broken ground. The race would appear to be "on" as to who will finish first and have the first shot at getting apartment shoppers in the Midtown Atlanta rental market.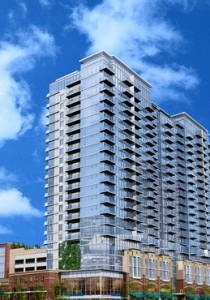 We have long been missing a higher end rental product in Midtown Atlanta. Potential renters have either needed to find a private condo for rent, or opt for only 3 apartment buildings in the immediate area. Now, we will have two new apartment buildings hit the rental market at almost the same time. Let the rental war begin??
While this is good news for renters looking for Midtown rental options, they will be on the pricey side at $1500 for a 1 bedroom and $2400 for a 2 bedroom. (We will see how the market reacts to this when they open) On the flip side, for those investors or private owners looking to rent their Midtown Atlanta condo, there may be some pressure on the price you can get with all this shiny new places to rent. OR, it may drive up your price as you may be able to ask more than you have in the past, given the "competition" you will now have.
Certainly some questions that all the New Cranes in Midtown Atlanta have offered up!