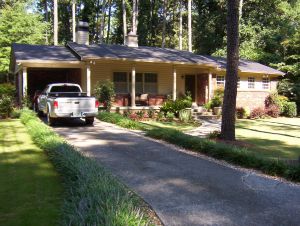 Selling a single family home and a condominium do have differences. And when it comes to preparing your home to put it on the market, a home owner will have a few other areas to pay attention to that a condo owner will not have. Let's look at 10 Ways to Make Your House More Salable.
Get Rid of Clutter. Throw out or file stacks of newspapers and magazines. Pack away most of your small decorative items. Store out-of-season clothing to make your closets look larger (if they are smaller) Clean out the garage! You know how much stuff you can hide in here!
Wash your Windows! Inside and out! And if you have a two-story home, this maybe better left to a professional company if you have to get on a ladder! Also, clean the screens at the same time.
Keep everything extra clean. If you haven't, a deep, deep clean of your home before you put it on the market is a great idea. Just look at walls around a light switch, or a spot on a cabinet where you may grab instead of using the handle….all of these things you may overlook, but a potential Buyer standing in your kitchen for 10-15 minutes may quickly notice. Clean the stove (oven too!!) and the refrigerator…and KEEP them clean. Buyer's WILL open and look at these things! Mop and wax floors. A clean house makes a better first impression and convinces buyers that the home has been well cared for.
Get Rid of Smells! Clean drapes and carpeting. If drape cleaning may be expensive, consider removing them. Open windows when cooking to eliminate odors, smoke or pet smells. You can use fresheners, but be careful as to how much. Some buyers can be sensitive to those smells too.
Higher wattage bulbs. If a room has a tendency to be a bit dark, use higher wattage bulbs to help the room seem brighter. This is especially true of basements and other dark rooms. Of course, replace any and all burnt out bulbs!
Make repairs or Pre-Inspect. Consider having a home inspection done on your home, just like you would if you were buying it. You can identify minor (or even major) things you may not have been aware of. And fix them. This will again make the home look well cared for, and avoid any of those inspection "land mines" you may have heard about. Or, if you discover something you are not in a position to repair or replace, at least you are prepared when the Buyer asks for a price concession because of the item.
Curb Appeal. Yes, it matters…big time! I'm not saying install a whole new yard, but keep it tidy. If you have a lawn that leans more towards weeds than actual grass, keeping it mowed, and mowed short will make it look much better! Trim shrubs and edge walkways and the curb. Potential buyers will be standing at your front door for a few moments while the agent is getting the keys from the lockbox…consider some potted plants or flowers to brighten up the entrance way. If you have a busy schedule, or if you move and leave your home vacant, hire a lawn maintenance company for the duration until your home is sold. An unkept yard has kept many a buyer from ever even getting out of the car and looking on the inside.
Clean your Driveway. Pressure wash your driveway and sidewalks. You will be amazed at the difference…and so will a potential buyer. If you have holes or cracks, try to repair and patch them.
Clean your gutters. That's all I have to say about that!
Paint your front door. You want the entire home to look good, and a full paint job may be needed before you list your home. But certainly pay attention to the front door. Again, that buyer may be standing there for a few minutes, and we want what they see to shine.
As part of our marketing strategy to sell your home, when we meet with you, we walk through your entire home and discuss changes and things you can do to make your home look better and sell quicker.
Let's sit down, look at the market, and put your plan together to sell your home!!
We've written some other articles with tips about Selling Your Home HERE.