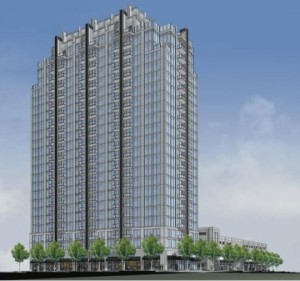 Well, a few years ago the cranes scrambled for a place on the Midtown Atlanta skyline to build the condo towers that now grace the Midtown Atlanta skyline. Fast forward to 2012…and the race is on again to dot the skyline…but this time to build apartment buildings like 100 6th Street.
This evening, I attended the Design Review Committee meeting of the Midtown Alliance where Novare Group's Jim Borders (builder of Metropolis, Spire, Viewpoint, Twelve Atlantic Station, Twelve Centennial Park, The Atlantic and more….) made his case for the new 23-story tower that will house some 320 homes along with an adjacent parking structure with some 400+ parking spaces.
The rendering here (also shown at tonight's meeting) is the South facing portion of 100 6th Street. The parking deck y0u see to the right will run from almost the corner of 6th Street to the Corner of 7th Street. Sadly, garages are still needed in the City of Atlanta since mass transit is still a dream for Atlanta, but this one will take up almost a whole BLOCK! The architects played the cards right as there are two retail spaces fronting Juniper Street (even though they are not required) to keep the surrounding Midtown neighbors happy about not having a block of dead space.
For those questioning the exact location, the tower of 100 6th Street will sit basically where Loca Luna Restaurant and The Armory Bar use to be.
Some of the DRC members were not to happy about a proposed "pocket park" at the corner of 7th and Juniper Streets. One committee member said that while the idea sounded good, because of a lack of activity on that corner, the park could have the potential to be a safety issue. When asked why that corner did not have a retail space, Mr. Borders commented that is was "not a marketable space." I think what he meant to say was he just could not charge enough for it!
If there is anything that Midtown Atlanta lacks it is AFFORDABLE retail space. Perhaps the way to "market this corner" is to a merchant that has the marketing savvy to bring in customers and can make it in the space because it's not costing them an arm and a leg every month in rent. It will be interesting to see if this portion of the design gets changed based on community input.
It was also not 100% clear to me how the new building will be placed in relation to the current Viewpoint Midtown tower. Hopefully, those owners on the South facing side of Viewpoint will still have…..a view.
But for now, it looks like another crane for another apartment building (we have two under construction now) will be on the skyline in the coming months .