After what the real estate market did around the country, and in Atlanta, news of expansion is always a good thing. And when that Atlanta news is in Midtown Atlanta, I say all the better, right?
It would appear that 12th & Midtown developers Daniel Corp. and Selig Enterprises Inc. are assembling land to expand their 12th & Midtown project with more retail and apartments. In the past few months it would seem that the Midtown Duo has placed some other choice morsels of Midtown land in their shopping bag. It made me think, What could they have picked up? The Atlanta Business Chronicle article mentions a FIVE block area around the existing 12th & Midtown location.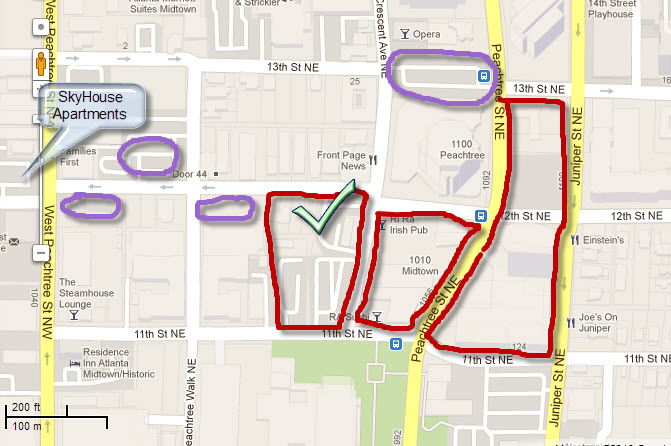 12th & Midtown Adds To It's Master Plan
The map above indicates some options. (I stand corrected if I'm wrong….) The red circles are the property that 12th & Midtown already has. 1010 Midtown Atlanta, the high-rise condominium building is on the corner of 11th and Peachtree (left side looking at the Map.) The Loews' Midtown Hotel is on the right hand corner. The check mark indicates the site of the new 77 12th luxury apartment building. The purple circles indicate SOME (not all)of available vacant land in the immediate area. And with the Selig holdings, there may be parts of this area they already own.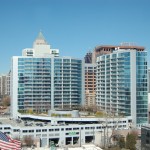 Daniel and Selig, who also partnered to build Plaza Midtown Condominiums at West Peachtree and 8th, say their new contracts for the expansion of 12th & Midtown validates its long term vision since they launched the $1.1 billion, 2.5 million-square-foot project at the height of the market in 2006. "I think we're helping change the face of Midtown and, by that, the face of Atlanta," said Selig Enterprises President Steve Selig in the ABC article.
It's backed by capital partners including Canyon-Johnson Urban Fund L.P. and MetLife Real Estate Investments.
77 12th Street, a 23-story apartment building will be complete this May. (Above map notes the location of the new SkyHouse Apartments, built and just opened by Midtown's condo builder, Jim Borders and Novare.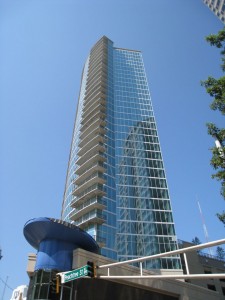 As the project moves forward, retail is a major focus of the group. And for those residents in Midtown Atlanta, we know it would be nice to have some shopping. Unfortunately, I think rental rates keep the little guys out, and hence you see stores like CB2, and high end restaurants like STK. Also, some retailers either don't see the traffic, have stores in other locations they feel residents will travel to (a.k.a. get in your car) or, their retail model does not fit in the space. I've often wondered, could not a GAP, Jr work in Midtown Atlanta? Not a full size store, but where limited items could be carried and perhaps a on-line order feature for items not in the store? Hmmmmm….
Another ABC article quotes Shirley Gouffon, Senior VP of Selig. The current land deals will give 12th & Midtown the ability to add some 200,000 sq. ft. of retail space! (In comparison, the current foot print of the development has about 130,000 sq. ft.)
"It will be significant," said Gouffon, who heads retail leasing for 12th & Midtown. "I'm very optimistic about the future. It's not happening overnight. But, it is happening." Some of the new space will be in future development of the vacant block just north of the Loews' Hotel. (This is the vacant block in front of Park Central Condominiums, and where the current Food Truck Thursday's happens.)
"What we would do is enhance what is already there and successful," Gouffon said. "It's truly a thriving dining destination to date. We think that we have the opportunity to enhance that and expand upon it with other uses."
There is certainly an increased density of people in Midtown Atlanta since 1997, when the first construction and conversions started. Retail follows rooftops, and with the new apartment buildings under construction (THREE, including SkyHouse, 77 12th and 100 6th Street) we are certainly getting more! But, much of the talk of the retailers always leads to high end fashion retailers. Peachtree Street had My, My, My and Drew Lewis who have both since closed up shop. I often wonder how many of the residents in the high-rise condominium buildings and apartments will be out buying $300 sweaters or $100 dress shirts?
And there is the challenge of other locations where retail is being developed, adding to the competition. West Midtown has seen several new stores open, and the future Ponce City Market, being developed on the south edge of Midtown are sure to turn up the retail heat for tenants.
"All of the tenants that have opened to date at 12th & Midtown are doing very well," she said. "It's become a great story for us as we market to other retailers." Let's just hope its more retail and not more restaurants and stores Midtowner's can, and want to shop in.
NOTE: A big shout out to Amy Wenk with the Atlanta Business Chronicle for TWO stories on the 12th & Midtown development. Readers may remember Amy as the former editor of Midtown Patch. Thanks Amy!