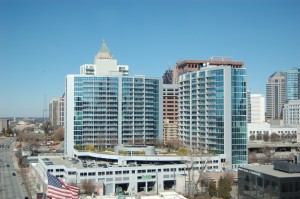 Plaza Midtown Atlanta was completed in 2006. It has an ideal location, just across the street from the Midtown MARTA station, and just across the 10th Street Bridge over the Downtown Connector (I-85/75) from Georgia Tech. The community sits on a 3.3 acre city block, bounded by West Peachtree Street, Peachtree Place, Spring and 8th Streets. The two, oval glass towers of Plaza Midtown Atlanta are 20 stories each and contain 452 One and Two bedroom condominium homes, with a variety of floor plans and sit atop a podium of parking and 70,000 sq. ft. of retail space.
While many of the newer Midtown Atlanta condominium buildings contain street-level retail, The Plaza Midtown Atlanta contains the Publix Urban Market grocery store. Encompassing 35,000 sq. ft and complete with a pharmacy, deli and seafood counters, you can grocery shop and never step outside of the building. In fact, there is a dedicated elevator in each building that takes you to the garage level and the Market! Talk about convenience!
Another great retail feature of The Plaza Midtown Atlanta is the selection of restaurants in the building. There is Marlow's Tavern, Prickly Pear Taqueria, J. Christopher's, Dressed Salads and Steel Restaurant. Just think, a different restaurant every night without ever leaving home! And most of them will deliver right upstairs to your home!
Since The Plaza Midtown Atlanta was designed with two separate towers, each building has its own lobby and 24-hour concierge. High speed internet access and basic cable are included in the monthly homeowner's fee, but most owners upgrade their cable service. In searching for homes at Plaza Midtown Atlanta, there are two addresses, 950 West Peachtree for the East Tower, and 44 Peachtree Place for the North Tower.
The Plaza Level, located on the 6th Floor, contains a unique acre roof top garden. Finished in various levels with extensive plantings of shrubbery, grass and trees, you almost forget you are in the middle of Midtown Atlanta. There are two grilling areas, complete with tables. The resort-style pool area is a perfect respite from a busy day in the city and has satellite radio throughout the area. The Plaza Midtown Club Room is available for all owners and residents to reserve for special events. It has a bar, billiard table, and two "living rooms" that have sofas, chairs, flat screen TV's and a gas log fireplace! There is a fully equipped fitness center, so you can save on the gym membership.
The Plaza Midtown Atlanta. A great place to call home in Midtown Atlanta
%%ds_Results|{"SearchSetupID":"30","directive.ResultsPerPage":"10","directive.SortOrders[0].Column":"Price","directive.SortOrders[0].Direction":"DESC","query.BathsMax":"","query.BathsMin":"","query.BedsMax":"","query.BedsMin":"","query.Cities":"","query.Communities":"","query.Counties":"","query.DaysOnMarketMax":"","query.DaysOnMarketMin":"","query.ImprovedSqFtMax":"","query.ImprovedSqFtMin":"","query.ListingStatuses":3,"query.LotSqFtMax":"","query.LotSqFtMin":"","query.PriceMax":"","query.PriceMin":"","query.SearchSetupID":"30","query.TractIdentifiers":"Plaza Midtown","query.YearBuiltMax":"","query.YearBuiltMin":"","query.ZipCodes":"","requester.AccountID":"11305","requester.ApplicationProfile":"WordPressIdxModule","requester.ApplicationVersion":"6.2.2","requester.ClientIpAddress":"66.249.64.128","requester.ClientUserAgent":"Mozilla\/5.0 (compatible; Googlebot\/2.1; +http:\/\/www.google.com\/bot.html)","requester.PaginationUseActivationPath":"true","requester.PluginVersion":"3.17.1","requester.RequesterUri":"https:\/\/www.mymidtownmojo.com","requester.SearchSetupID":"30","requester.UtcRequestDate":"2023-09-26T14:12:11+00:00","responseDirective.IncludeLinkMetadata":"true","responseDirective.IncludeMetadata":"true","responseDirective.ListTabAlignment":"Left","responseDirective.ShortcodeResultsView":"","responseDirective.ShowLargerPhotos":"false","responseDirective.ViewNameSuffix":"shortcode","requester.Signature":"4e112492ff5aad54853883aa4b5e20c3fa7286e4"}|ds_end%%