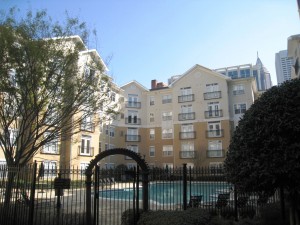 I've worked with numerous Georgia Tech parents that are looking for living options for their GATech student…other than on campus living. And many have turned to Midtown Atlanta Real Estate as a solution to their problem.
Just a couple weeks ago, I placed the ONLY 2 bedroom condo at Cornerstone Village Under Contract for parents of a GATech student! They are really excited about the place they got…and so is their daughter and her roommate!
I wanted to make you aware of another opportunity …at a great price…that could meet your needs, and long-term perhaps be an investment property for you!
DISCLAIMER NOTE :  This property is NOT my listing, but I'd be delighted to represent you as your Buyer's Agent in making this purchase!
This is one of the over-sized one-bedroom floor plans (1,000+ sq. ft.) that was nicely converted into a 2 bedroom condo. It has huge living space with room for living room furniture, plus some student study areas (desks, bookcase and such) While the two bedrooms are smaller than normal, each has a window and probably more space than a typical dorm room would. There is one bath that can be shared.  It also has only 1 parking space, but since we are within walking distance to Tech Square or the Tech Trolley stop…no problem!
The kitchen is complete with granite counters and black appliances, and has room for a FULL-SIZED washer and dryer right in the condo. GREAT…no need to lose study time or wander off to some laundry area…it's all right inside your condo!
We also had a post about the demand for on-campus housing earlier this week!
Contact me today before this one is GONE!!!
ATTENTION Georgia Tech Parents!! Looking For That Perfect Off Campus Housing?
We're sorry, but we couldn't find MLS # 5119348 in our database. This property may be a new listing or possibly taken off the market. Please check back again.