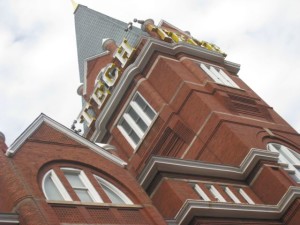 Demand for housing is up…pretty much everywhere in the U.S. Midtown Atlanta is no exception as we see a significant decrease in the number of available condos For Sale, and a marked increase in apartment construction. And the same seems to be true for Georgia Tech Student Housing.
February 5-28 was the sign-up period for On Campus housing for Returning Students. When you look at the Sign Up Instructions, you'll find the following note:
Due to increased campus enrollment and planned hall renovations, any student who will be an undergraduate for Fall 2013 and  enrolled at Tech before Summer 2010 may not be guaranteed housing. The number of returning students who request a room in the initial  application period (February 5 – 28) will determine whether 5th and 6th year seniors will be placed on the Wait List or be guaranteed housing. Please check your email for a detailed explanation and further information.
So, what happens to Freshman, or even returning students? Where will you live? 
Georgia Tech Student Housing – Will I Get A Room For Fall 2013?
Maybe there is another option? What about a Midtown Atlanta Condo? And instead of renting, why not BUY a Midtown Atlanta condo for your Georgia Tech son or daughter to live in while they attend school? Prices in Midtown Atlanta are on the rise, and now might be the perfect time to make that real estate investment.
Imagine this…you purchase a condo (especially if a 2 bedroom) and your son/daughter has a roommate. Their "rent" is going to cover the cost of your monthly HOA fees, and probably a bit towards the monthly mortgage. While there are no guarantees, if you are able to obtain a leasing permit (*), you could turn the condo into an investment property and rent it out. Or, if you have a student on the "extend plan," (getting a Master's degree) they could stay in the condo longer. Maybe another son or daughter coming behind the first one? Housing problem solved.
There are numerous Midtown Atlanta condominium buildings that are perfect for Georgia Tech Off Campus housing. Certainly, a word of caution….two bedroom condos are easily approaching and surpassing the $300,000 price point. So, if there are opportunities below that figure, it could be a good time to capitalize on this upswing in the Midtown Atlanta real estate market.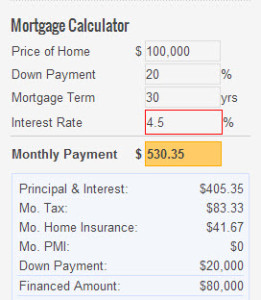 While the inventory of 2 bedroom homes at less expensive prices is a challenge, there ARE still some one bedroom homes that can be found for under $100,000. But, even THOSE are becoming limited. Cornerstone Village has been the best option for this, but even this building now has very limited inventory. (I just put the last 2 bedroom condo Under Contract to…..You Got it! Georgia Tech Parents!)
Here is an example of a mortgage on a $100,000 purchase price. Please note that the taxes and insurance will be higher than what is listed in this example. Please consult with a mortgage lender to get exact figures for your purchase! This amount also does not include your monthly HOA fees.
Certainly, Midtown Atlanta real estate just might be part of your Georgia Tech Experience!
(*) All condominium HOA's have restrictions on the number of homes that may be leased at any given time. This is strictly enforced by the HOA. If you purchase a Midtown Atlanta Condo, there is NO GUARANTEE you will obtain a leasing permit by the time your son/daughter may have finished school. Once you purchase your condo, you may place your name on the waiting list for a rental permit. This waiting period could be as little as 3 years or 5 or more years. There is a variety of factors that can change the length of time it may take you to clear this list.  
Georgia Tech Off Campus Housing – Midtown Atlanta Condo Communities
Need more information about the off campus options and Midtown Atlanta Real Estate? Call me directly at 770.713.1505 or email me at Info@MyMidtownMojo.com, or fill out the form below and I'll be in touch!


<