Homes For Sale in Chamblee
The area surrounding Atlanta is made up of numerous small towns and cities. Chamblee is one of those cities…that is seeing a surge in new development, both residential and in new businesses.
History of Chamblee Georgia
Most of the cities around Atlanta originally started as farms of some sort, and Chamblee is no exception. Originally first named Roswell Junction, the name Chamblee was randomly selected from a list of petitioners for a new post office name. The site was where two railroads crossed — one headed north to Charlotte and the other that carried workers and goods to a factory in Roswell. (Keep in mind in the early 1900's that would have been a long trip from Chamblee to Roswell!)
Chamblee was incorporated in 1907.
Chamblee gained recognition during both World War I and II as a site for U.S. military operations. During World War I, the U.S. operated Camp Gordon, home to 40,000 servicemen. This influx of new people created a building boom in the town. Camp Gordon was closed after the war and then re-opened as Navy Flight Training Center at the advent of World War II. This site today is known as Dekalb-Peachtree Airport, the second busiest airport in Georgia after Hartsfield Jackson Atlanta International!!!
Immediately after World War II, Chamblee experience growth in blue-collar industry and residents due to its proximity to the newly opened General Motors plant in neighboring Doraville. Manufacturing plants also located along the newly constructed Peachtree Industrial Boulevard. Today, most of that industrial base is gone and has been replaced by numerous other businesses. For example, a large Frito Lay plant is where the Lowe's Home Improvement now sits.
Chamblee Georgia Today
Chamblee has been very progressive and pro-active to retain their historic nature and the "railroad-town" historic look along New Peachtree Road. Today, this area is home to the nationally-recognized "Antique Row" and work continues to preserve this area yet, you can see new developments emerging in the area.
Chamblee has a MARTA station, and there is convenient condominium living available in communities such as Peachtree Malone Lofts(2002), Lofts at 5300(2005), Heritage Lofts(2005), Chalfont on Peachtree(2005) and Eco Lofts(2006). As you can see, the main new construction all happened post real estate bust! Within walking distance is Chamblee Village which contains a Walmart. It is positioned such that the store is somewhat hidden behind a row of other stores and restaurants and a majority of the parking is in an underground garage.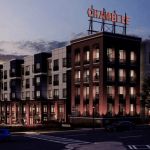 Just across from Chamblee Village is the site of the former International Farmers' Market. This site has been vacant for years. The market was closed, and torn down, and then the real estate market turned. But now, and exciting new development, called The Olmstead Chamblee has been proposed for the site. It will be apartment construction, consisting of 283 "live-work" type homes with a boutique feeling. The website for the development calls for a 2016 opening. There are numerous other building sites in the area, and it's hopeful we will see more development here.
Chamblee also offers numerous single family home communities as well as townhome and condominium options. They are listed below:
Wakefield Forest
Whispering Pines
Appling
Surry Place
Rose Woods
Sexton Woods (a portion of)
Variations (Townhomes)
Turnbury Gates (Townhomes)
Lofts at 5300 (Condominium community located near the Chamblee MARTA Station)
Townsend at Chamblee (New Construction scheduled for Chamblee Dunwoody Road)
(We will add others, or create links to these neighborhoods within Chamblee as we get more info about them)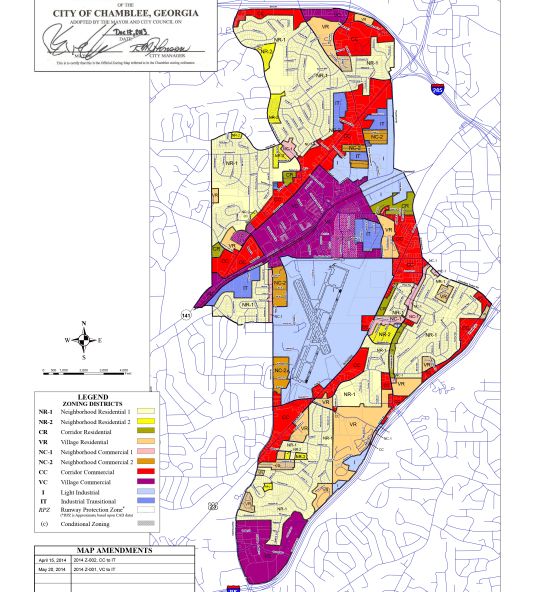 Here is a link to the Chamblee Zoning Map that further shows how the city has expanded South along I-85 to Clairmont Road, as well as the area that was annexed North of Peachtree Blvd.
In Chamblee along Peachtree Blvd, it can be referred to as Automobile Row! Numerous dealerships representing a wide variety of makes are long this street!
We'll continue to add more information to our Chamblee, Georgia page as we find it and do more research.
Below, is a listing of Homes for Sale in Chamblee, Georgia. NOTE: Some listings will appear as Chamblee based on the Zip Code, but are not actually in the city limits of Chamblee.
%%ds_Results|{"SearchSetupID":"30","directive.ResultsPerPage":"10","directive.SortOrders[0].Column":"DateAdded","directive.SortOrders[0].Direction":"DESC","query.BathsMax":"","query.BathsMin":"","query.BedsMax":"","query.BedsMin":"","query.Cities":"","query.Communities":"","query.Counties":"","query.DaysOnMarketMax":"","query.DaysOnMarketMin":"","query.ForceUsePropertySearchConstraints":"true","query.ImprovedSqFtMax":"","query.ImprovedSqFtMin":"","query.LinkID":"411146","query.ListingStatuses":3,"query.LotSqFtMax":"","query.LotSqFtMin":"","query.PriceMax":"","query.PriceMin":"","query.SearchSetupID":"30","query.TractIdentifiers":"","query.YearBuiltMax":"","query.YearBuiltMin":"","query.ZipCodes":"","requester.AccountID":"11305","requester.ApplicationProfile":"WordPressIdxModule","requester.ApplicationVersion":"6.2.2","requester.ClientIpAddress":"35.88.56.214","requester.ClientUserAgent":"Mozilla\/5.0 (Macintosh; Intel Mac OS X 10_15_7) AppleWebKit\/537.36 (KHTML, like Gecko) Chrome\/113.0.0.0 Safari\/537.36","requester.PaginationUseActivationPath":"true","requester.PluginVersion":"3.17.1","requester.RequesterUri":"https:\/\/www.mymidtownmojo.com","requester.SearchSetupID":"30","requester.UrlReferrer":"http:\/\/livinginchambleega.com\/","requester.UtcRequestDate":"2023-09-30T08:26:03+00:00","responseDirective.IncludeLinkMetadata":"true","responseDirective.IncludeMetadata":"true","responseDirective.ListTabAlignment":"Left","responseDirective.ShortcodeResultsView":"","responseDirective.ShowLargerPhotos":"true","responseDirective.ViewNameSuffix":"shortcode","requester.Signature":"3b8508d465852cd8aa42633f96cf8e8aff030000"}|ds_end%%