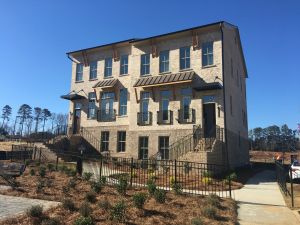 The Doraville real estate market has really changed with the arrival of Carver Hills, and we wanted to "take it's pulse!" So let's look at the Doraville Real Estate Market Report October 2018.
Please note: In preparing this report, we used data from FMLS (First Multiple Listing Service) and searched by the city name, "Doraville." As a result, some homes on this report are not within the actual city limits of Doraville, but were listed with Doraville as the city address, most likely because of a zip code assignment.
First, a look at the townhome/condominium market…and a disclaimer. Doraville has only 1 condo community, and a one community is using a Doraville address, but they are actually in the city limits of Peachtree Corners, that being Copperleaf at Global Forum.
For October, there were 13 active listings, ranging from a Ashlyn Point 4-bedroom at $238,000 to a 3-bedroom at Carver Hills for $492,738. In the chart below, you can see the average days on market to be just 32 days, but a Copperleaf listing has been on the market for 122 days!
7 listings were Under Contract, and ranged from $95,000 at Chestnut Creek (the only condo complex) to $302,834 at Copperleaf at Global Forum.
7 homes sold (or closed) in October in Doraville. They ranged in price from $135,000 at Aspen Woods to a 3-bedroom at Copperleaf at Global Forum for $289,000.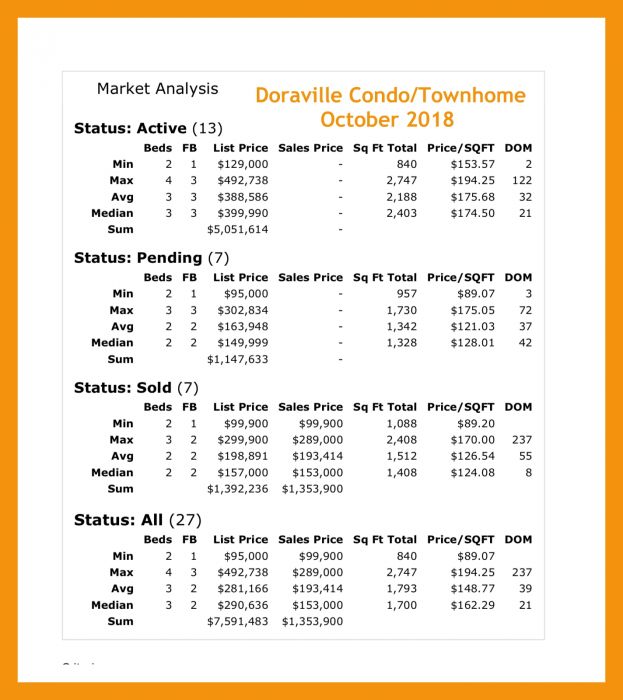 In the Single-family market in Doraville, there were 18 homes listed For Sale. They range from $179,500 for a 3-bedroom, 1-bath in Guilford Village to $608,008 in Carver Hills for a new construction home.
There were five homes Under Contract ranging in price from $449,900 on Eula Circle ( a 5-bedroom built in 2012) to $563,316 in Carver Hills.
12 homes sold in October, ranging from $141,000 on Beacon Drive to $356,400 on Eaglerock in Northcrest.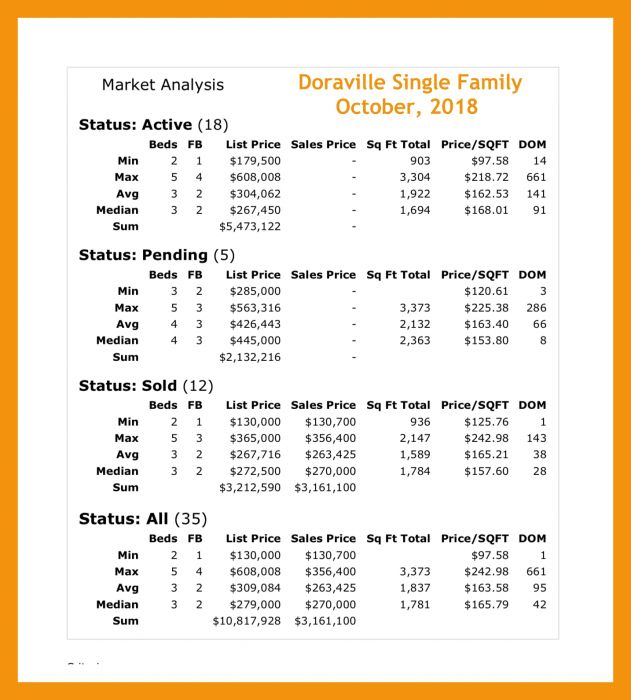 Keep in mind, this Market Report is a "snapshot moment in time" of what is happening in the market, and is a view at, say 30,000 feet. What may be happening with sales and prices in your condominium building could be much different that what is selling across the street. And the same is true for single family homes as well.
If you are looking to Buy or Sell a home in Doraville, MyMidtownMojo.com can help! We have lived in the area for 20+years and know it very well!
Selling? Do you want to sell your Doraville single family home or condominium? Call us today at 770.713.1505 to schedule a free market analysis of your home. Or, complete our Seller Information Form and we will be in touch with you!
Buying? Are you looking to buy a Doraville home or condo? We can set up specific searches for you based on price, building or other specifics you may be looking for. In a competitive Seller's Market, we can alert you of new listings within minutes of them hitting the market! Just complete out Buyer Information Form, or let's schedule a time to talk about what you are looking for!
Contact MyMidtownMojo and Thomas Ramon Realty@Palmer House Properties at 770.713.1505 or Info@MyMidtownMojo.com for all your Doraville real estate needs!