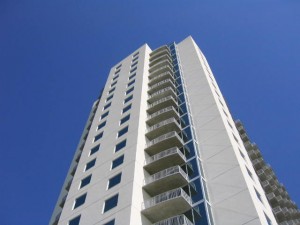 Looking for a great option for Georgia Tech Condo Housing? Then let me take you to a building near and dear to my heart. I bought a home in Spire in it's pre-construction sales days when you had to lean against the wall to sign your contract and the building sold out in THREE WEEKS! Wow! I've since sold my place, but still love the community feel you get in the building. But, you too would be happy having YOUR Georgia Tech student living in Spire Midtown Atlanta.
Spire Midtown Atlanta was the next "child" of Novare Group after their ever popular Metropolis Midtown. (I've yet to review this building…stay tuned!) But, kinda like an automobile design, we learn as we go along. So, Novare improved on Spire with upgraded cabinetry in the kitchen's and baths, a choice of cabinet colors (but only if you changed floors) and less studio floor plans and more one bedroom plans.
Constructed on the corner of 7th and Peachtree Streets, it certainly has taken its place as a Midtown Mile icon. And the moment you step in the lobby, you will certainly see why. Spire Midtown Atlanta is everything a condominium community should be, yet offers amenities and security that are sure to be important to any parent looking for Georgia Tech Condo Housing.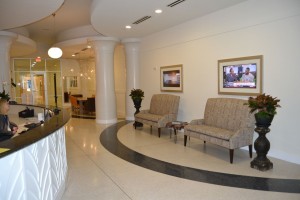 The lobby is…..striking. You truly like coming home, or welcoming guests here. Not the original color design when built, and in fact has been changed twice to the current design you see here on the right.  24 hour Concierge and Security greet you in the lobby. A secured "second lobby" is controlled access for residents, and the Concierge can send your guests up and control exactly which elevator and floor they are going to. Elevators are also controlled access, and resident can only access their parking level, amenities level and the floor where their home is located.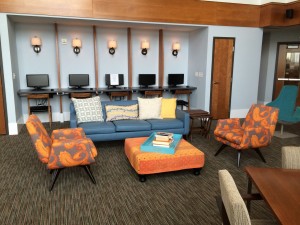 Spire Midtown Atlanta made quite an impression with their Sky Club on the 7th and 8th Floors. Internet stations, catering kitchen and wet bar, pool table and movie screen room were, and still are quite impressive. The stone and wood accents along with gas log fireplaces make for some inviting conversation areas.
The building is just 5 blocks from Technology Square where students can catch the Tech Trolley or The Stinger for transportation further into the Georgia Tech campus.
Spire Midtown Atlanta offers 18 different floor plans ranging from 678 sq. ft for a studio plan (yes they still did two studio floor plans, to 1,356 for a premium 2 bedroom home overlooking Peachtree Street. This building, I think, will be a timeless addition to Midtown Atlanta, and one you will be proud to call home.
For more information about Spire Midtown Atlanta, or to Search for Spire Midtown Atlanta Homes For Sale, just visit the links. The map below will give you an indication of the location of Spire in relation to the Georgia Tech campus.
If you'd like a personal tour of this exceptional Georgia Tech Condo housing option, please contact me today!