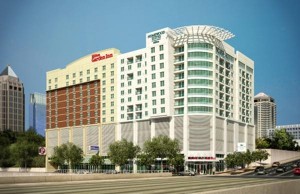 Midtown Atlanta will soon see the cranes of construction, although it won't be for a new condominium building. (Thank goodness!) But a new dual branded Hilton Garden Inn and Homewood Suites will rise at the corner of 10th and Williams Street. You may know Williams Street a the northbound street that parallels the Downtown Connector. Groundbreaking for the new hotel was held on August 18th. The hotels should open in 2013.
The two hotels will be housed in a 12-story tower, and will feature 226 rooms: 134 rooms branded as Hilton Garden Inn, and 92 branded as Homewood Suites. It's a new concept for a hotel, to have two brands occupy the same building, but both are under the Hilton umbrella.
The site is currently a parking lot, and this building will be a nice addition to the Midtown skyline, especially at the 10th Street entrance to Midtown! Now, one just has to wonder who's going to fill the hotel rooms. But, more recent additions to the Midtown Atlanta hotel scene have been on the upscale side, such as the Loews Atlanta and the newly re-branded Renaissance Hotel (formerly the Hotel Palomar). It certainly is a convenient location to such buildings as Price Waterhouse as well as the GATech campus.
The Hilton Garden Inn and Homewood Suites is pictured above. This is how the site currently looks. We look forward to watching the construction progress and will be sure to share photos as it moves along.