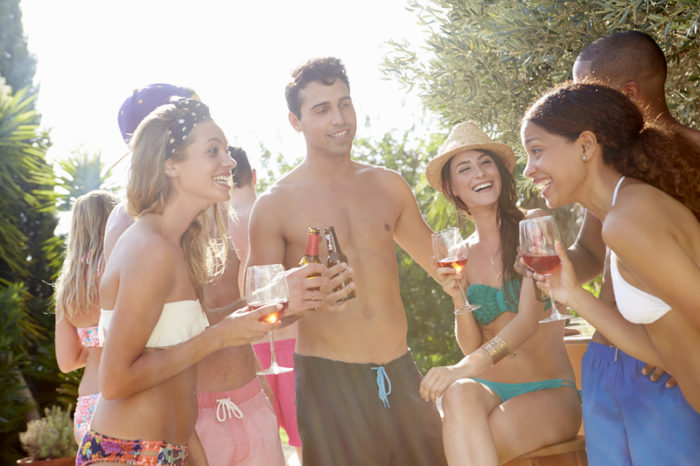 If you live in a condominium, townhome or single family neighborhood, you very well may have a pool. And we know some of you make regular use of this amenity, and others…well…they saw it the day they looked at the property. But in Hotlanta, a pool is a pretty nice amenity to have. But the HOA Rules and Regulations have to have some rules for the pool.
And to share with the other 300+ homes in your building. Key word there is….share. Alas, but not everyone gets that part, or even still, not everyone understands what goes on with a pool.
I thought I'd share some Pool Rules that we picked up from a condo community…with some commentary about each rule.
Rules at the Pool
In an effort to help promote safety and overall enjoyment of the pool for all residents, we ask that you please take a moment to familiarize yourself with some of the pool rules listed below.
No Glass At The Pool – Glass is strictly prohibited in the gated pool area. This means no liquor/beer bottles, no wine bottles/glasses. No glass containers brought in via ice chest, cooler, tote. No glass, period. Aside from possible injuries, if glass breaks at the pool, the pool must be closed, completely drained for cleaning, inspected and cleared, then refilled. If this occurs, all costs will be passed along to the responsible party.
WHAT THAT MEANS — It can cost an HOA upwards of $5,000 to drain a pool, clean it, refill it, and have it treated again. Not to mention, the down time where the pool cannot be used AT ALL! Yeah, right smack dab in the middle of Summer Pool Season, your pool gets closed because some yahoo dropped a beer bottle. Moral to the story here — buy it in a can. If if don't come in a can…your lazy behind will need to go up to your condo when you need a refresh.
No Smoking At The Pool – All forms of smoking are strictly prohibited in the gated pool area. There are designated smoking areas located near the planters at the exterior of the gated pool area.
WHAT THAT MEANS — Not trying to offend any smokers, but it's not a pretty habit. You got it. We understand. Just do it someplace else. And sadly, many smokers don't think tossing that butt anywhere is littering…but it is. There are many examples of patio furniture with burn holes in them, and even fires in landscaping from people tossing butts of balconies. How about we not smell the smoke or see butts in the pool. (Well, we wanna see butts in the pool…just not THAT kind!)
Limit 4 Guests Per Unit – For the enjoyment of all residents at the pool, each resident is allowed a maximum of 4 guests per unit at the pool. Guests must be accompanied by resident at all times.
WHAT THAT MEANS — You SHARE this pool. It's not YOUR POOL. You can't have a pool party and invite 10 of your friends. Why? Well, how's about YOU come down to the pool and there is no place to sit, the pool is packed and 60% of those people don't pay for that pool or pay your HOA fee, but you can't use the pool? We get it….you're popular and have lots of friends…but…you are going to limit them here.
Music At The Pool – As a courtesy to your neighbors, please keep all portable music devices at a volume that will not disturb others around you.
WHAT THAT MEANS — Whether you are into those noise cancelling headphones (that are now reminiscent of the 1970's) or use Airpods, your music and your music tastes are…..just that. Your Music.
Elevators – Please be mindful of residents living on the xxth floor when going to the pool, or back to the elevators. Please keep all noises to a minimum, so as to not disturb your neighbors.
WHAT DOES THAT MEAN — Most condo building pools are accessed via some floor that also has (gasp) actual homes and residents living there! So after you have had a few cocktails, we know the volume can go up…and if all your friends (Limit 4 please) are equally happy…well there goes the noise in the hallways. Let's use our inside voices.
As a reminder, when consuming alcoholic beverages, please drink responsibly. WHAT DOES THAT MEAN — Just what it says!
Any violations of the above rules and regulations may result in fines to the responsible units.
WHAT DOES THAT MEAN — A fine. And some communities don't mess around with their fine schedules. And….there ARE cameras.
We appreciate everyone's efforts in helping to maintain the pool as a fun and enjoyable area.
Do these sound harsh? No. They should be simple common sense, but hey, not all of us have that. So we have to put rules in place so everyone can enjoy the pool!