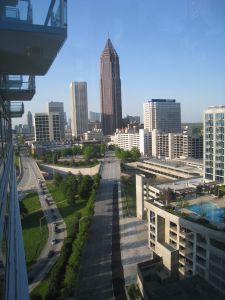 We are always excited when we hear of new corporate relocations to Midtown Atlanta. And the announcement that Honeywell is bringing their Home & Business Technologies HQ to Midtown is no exception!!!
Honeywell Home & Business Technologies HQ to Midtown Atlanta
Honeywell International announced on Monday that it's Home & Business Technologies headquarters will move from Morris Plains, NJ, to Midtown Atlanta. The move, coupled with a "first-of-a-kind North American software development center," will create about 800 jobs in Midtown Atlanta!
Midtown's Bank of America building is said to be a favorite to land the project. As the Midtown center grows, they will develop aerospace, automation and control solutions software. (The Bank of America Building is the tall building in the center of the photo on the right!)
As these employees look to relocate from New Jersey to Atlanta, we are excited to help them find opportunities in Midtown Atlanta, and the surrounding communities. Midtown Atlanta is one of the most walkable locations to live in Atlanta! Honeywell employees will have numerous condominium and apartment buildings to choose from. Looking for a single family home? From Midtown, to Buckhead, Druid Hills, Brookhaven, or Chamblee..there are lots of choices.
If looking to be near MARTA transit, which the North Avenue station is just across the street from the B of A Building, then Buckhead, Brookhaven, Chamblee and Doraville are all great options to consider, depending on price, size and style of home you are looking for!
This is also great news for the Bank of America Building which has some empty floors to fill up!