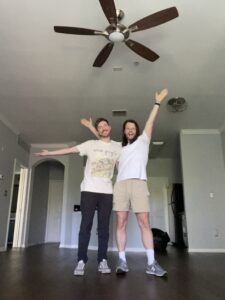 It's a great feeling to have happy clients! I so enjoy working in real estate and helping people realize their "real estate goals" in the way of buying and selling. Real estate, the buying and selling of, is a complex process with many moving parts. It can be a very stressful time for either a Buyer or a Seller. But my role, is to absorb as much of that stress away from my clients as I can, and with my knowledge and my team, be able to create a memorable real estate experience that is positive.
Dave and Adam found me online back in 2017 when they were looking to buy their first home. They worked for a major cruise line, and had literally lived out of suitcases for years! How crazy is that! They settled on Atlanta as a place to call home (Dave is originally from South Georgia). We looked at several condominium complexes and finally found just the perfect one for them. They had a great lender with Michele Wentworth with Silverton Mortgage. She was even able to attend the closing with Dave and Adam as I was already scheduled to be out of the country on a trip. We became great friends and I always looked forward to their return to Atlanta from the high seas! Of course, the pandemic turned the cruise industry upside down…and they were able to ride it out with their company. A great land-based opportunity became available for Adam in Los Angeles, and so the Atlanta chapter of their lives came to a close! We were able to work through an appraisal issue, and get them to their Celebration Day! Here's what they had to say about their selling experience:
"This is our second opportunity working with Thom. He has guided us through the purchase and now the sale of our first property. If we were not leaving the State, Thom is the ONLY person we would work with in real estate. His knowledge is so vast and his guidance is invaluable. Thom sets clear expectations on the ever changing market and remains in constant communication. You always feel like a priority when you work with Thom and his support, kindness and attention to detail is like no other.
Whether you are a first-time homebuyer or a seasoned real estate investor, Thom should be the person you choose to work with!"
My best wishes to Adam and Dave on this next part of their life journey! I know we will remain friends, and our paths will cross again! Thanks for your trust and your friendship!