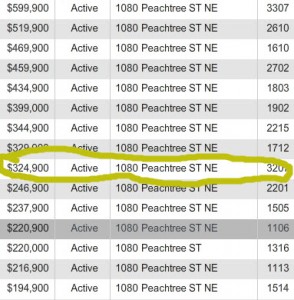 Well….it would now seem that 1010 Midtown Atlanta is the big kid in the playground! Why? It's your LAST NEW CONSTRUCTION opportunity in Midtown Atlanta! With the sell out of Luxe Midtown and Viewpoint Midtown, and the conversion of The Atlantic to rentals, this is the only option remaining! So let's look at the Midtown Atlanta Market Report for 1010 Midtown, March, 2012.
I've skirted 1010 Midtown for sometime. Mainly because I knew there were other options in Midtown Atlanta highrise living. But now that this is the last option……however, it will price many a condo buyer out of the New Construction and into a re-sale. If you look at the graph on the right, this is a list of homes in the MLS from 1010. See that one listing circled? That is a ONE BEDROOM! Yikes! I'll have to venture over and see that one for myself.
Here is a look at the activity in 1010 Midtown, but keep in mind that if a home was not listed in the MLS and sold, it will not appear in these numbers. This is only what is in the MLS.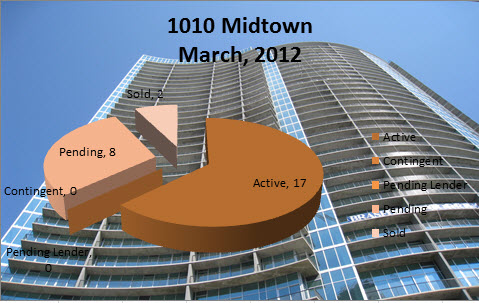 Unlike most Midtown Atlanta condo buildings, 1010 Midtown Atlanta homes have finished ceilings. Other buildings have the exposed concrete ceilings. The building has impressive floor plan options….the only strange thing they did was put the club room on one level and the pool on another. Strange flow, but I guess the architect figured people at the pool would not be in the club room? Right?
The building does offer amazing views. But one always has to be cautious as to what may be coming around the area. 12th & Midtown is now developing a luxury apartment building at the corner of 12th and Cresent Streets. At 20 some stories, many homes on the western side of 1010 Midtown Atlanta will lose their view!
If you are looking for New Construction Condo Living in Midtown Atlanta, then 1010 Midtown is the place for you! I'd be delighted to schedule a tour for you and find just the right floor plan for you to enjoy!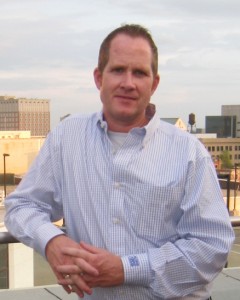 For More Information on how we can best serve your InTown Atlanta Real Estate needs, please fill out the online contact form or call us at 770.713.1505.
We specialize in InTown Atlanta Real Estate single family homes and condomiums. If you are planning to Buy InTown Atlanta real estate, let us help you explore all the possibilities available to you and help you find just the right home you will LOVE!
Please use the following links to Search for Homes by Intown Atlanta Neighborhoods or Zip codes!
Are you looking for a specific Intown Atlanta neighborhood to focus on? Contact Thomas Ramon Realty and we can set up a search for any specific neighborhood you are looking for!