I'm getting the Market Report for Cornerstone Village, January 2013 out late…but it's worthy to point it out because of the activity in the building.
Cornerstone Village is a great option for those Georgia Tech parents that might be considering buying a condo for their student to live in while attending Georgia Tech. However, the prices are rising in this popular Midtown Atlanta condo building….and so is the activity!
Midtown Atlanta Market Report | Cornerstone Village | January 2013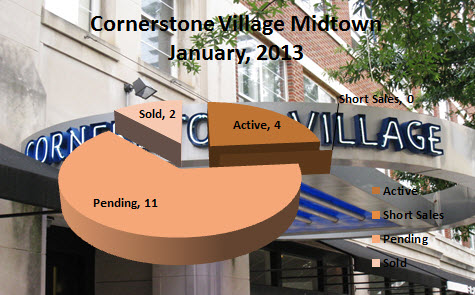 Let's take a closer look at January's sales activity at Cornerstone Village:
FOUR Active Listings included Three 1-Bedrooms ranging in price from $70,000-$110,000. There was just ONE 2-Bedroom home listed at $189,000.

ELEVEN Pending Listings (The second highest activity of any Midtown Atlanta Condo Building!) range from $55,000-$135,000.
TWO homes SOLD, a 1-Bedroom at $96,000 and a 2-Bedroom at $173,500.
In comparison to 2012, when there was One 1-Bedroom sold at $63,000 and One 2-Bedroom sold at $203,250. Note that this 2-Bedroom was over 1600 sq. ft. and while listed as a 2 bedroom, it could have a wall added in to make it a 3 bedroom condo. Three Bedrooms in a Midtown Atlanta condo for $200,000 was quite a bargain!
As the prices rise in this Midtown Atlanta condo building, the return on investment will change for those GATech parents that are looking for options for their student. There are still short sale opportunities that if you have the time to ride out the process, present some options!