A look at the Midtown Atlanta Market Report for Plaza Midtown Atlanta for June, 2012 shows buyers do not have many options to choose from in this popular building. We also see a decrease in the number of short sales!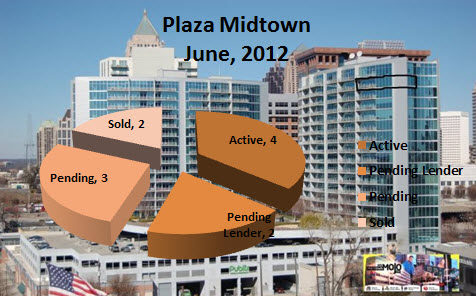 Let's look at this picture in more detail:
4 Active Listings include 2 one-bedrooms at $149,000 and $179,000; and 2 two-bedrooms at $299,000 and $325,000.
2 Listings are Pending Lender Approval (short sales) at an average price of $129,149.
3 Under Contract listings are a one-bedroom at $135,000 and 2 two-bedrooms at $275,000 and $338,000.
2 SOLD Listings – a one bedroom at $165,000 and a two bedroom at $211,000
While prices may have started to inch up ever so slightly, they are still well below what owners originally paid for these homes during the height of the real estate market. Plaza Midtown Atlanta  is a good building to keep a watch on if you are looking for a good buy, and be close to GATech campus.