Midtown Atlanta Market Report | Spire Midtown Atlanta December, 2012
The December, 2012 Market Report for Spire Midtown Atlanta shows a VERY clear picture of the inventory, or lack thereof in many Midtown Atlanta condo buildings!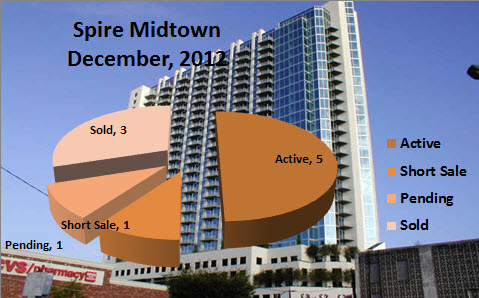 There were just FIVE active listings, four 1-bedroom homes ranging from $164-174,000 and a unique combination of two homes into one (although still only a 2 bedroom) at $499,000.
3 homes sold in December with an average Sales Price of $154,000 for 1 bedrooms and $259,000 for 2 bedrooms.  2 homes were Under Contract , a 1 bedroom at $127,000 and a 2 bedroom at $219,000.
Spire Midtown Atlanta is still one of the most popular Midtown Atlanta condo buildings. If you're looking to buy in this building, you best keep a close eye if you have a certain floor plan in mind….as your choices will be limited and most likely Sold quickly.
You can learn more about Spire Midtown Atlanta by clicking here.