Spire Midtown is one of the "Sister Buildings" I refer to since it sits directly across the street from Viewpoint Midtown. Both buildings were built by Novare Group, Viewpoint being their last one before the real estate market took a "turn."
Spire has been a very popular Midtown Atlanta condo choice ever since the building first delivered homes in 2007. While it has seen its share of short sales and foreclosures, there is clear evidence that the prices are on the rise in this building as well.
Midtown Atlanta Market Report | Spire Midtown | January 2013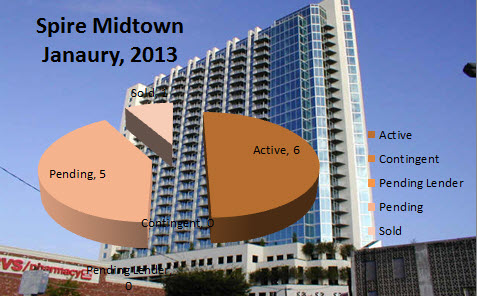 There are a couple unique homes currently listed in Spire Midtown:
Two 1 Bedroom homes listed at $159,000 and $173,000

Two 2 Bedroom homes listed at $320,000 and $339,000
A Penthouse (28th Floor Front Corner 2-story) home is listed at $675,000
A combined 2 bedroom and 1 bedroom (still only a 2 bedroom) at $499,000 on the 23rd Floor
There are Five homes Under Contract — Four 1 Bedrooms ranging in price from $169-179,000 and One 2 Bedroom at $289,000.
One home Sold, a 1 bedroom at $190,000
In comparison, in January, 2012 there were NO sales in the building.
List prices are rising in this building, and I suspect in a few months you won't get a 2 bedroom home for under $300,000. The building has a strong HOA, and has been quite strict on their leasing policies to keep everything in check.