Midtown Atlanta Market Report | The Dakota | March 2013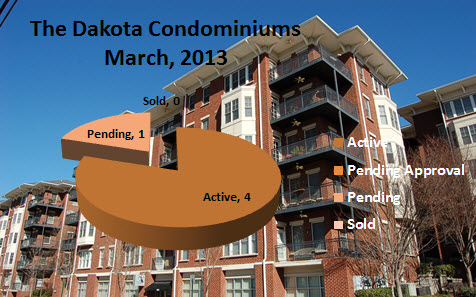 After a period of no For Sale inventory, we finally see some options at The Dakota. Let's take a look…
 ACTIVE LISTINGS (4) (Same as January's report)
One 1 Bedroom at $248,000
Three 2 Bedrooms ranging from $314,000 to $489,000
PENDING LISTINGS (UNDER CONTRACT) (1)
One 3 Bedroom Listed at $399,900
SOLD  No Sales in March!
2012 SALES ACTIVITY COMPARISON
One 2 Bedroom at $270,000
The sales activity and pricing at The Dakota has been a challenge to understand, even for us real estate professionals. The current high priced listing ($489,000) is a town home style floor plan that's had some extensive upgrades to it. But then the home Under Contract is at $399,900!  We'll have to watch this one on our next report and see what's happened!