One of the other new construction options in the Midtown Atlanta condo market is White Provisions, located at the White Provisions District off of Howell Mill and 14th Street in Midtown West. Let's take a look at the Midtown Atlanta Market Report for White Provisions in Midtown West, April, 2012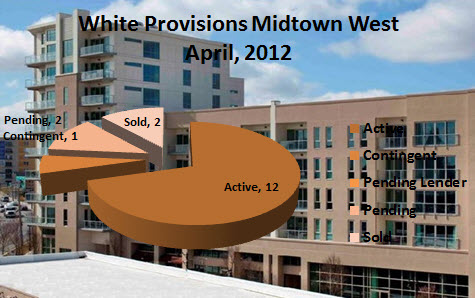 Keep in mind, since this is a new development, not all of the inventory may be reflected in the For Sale or Active Listings. The Active listings range in price from the Penthouse home (pretty cool space too!) at $759,000 to a 1-bedroom at $223,000.
MLS shows 1 home Pending a Contingency at $379,900, two homes Pending Sale, 1 at $259,900 and 1 at $199,900.
White Provisions had two homes sold in April, 2012 at $312,000 and $246,000. April 2011 shows one home sold.
Visit our White Provisions Community Page to learn more about his exciting new construction opportunity in Midtown West. If you would like to schedule a tour, why not contact us and we'll be happy to represent you in the purchase of a home at White Provisions.
Sorry, but we couldn't find any results in the MLS that match the specified search criteria.