The Tuscany Condominiums are located at 10th and Juniper Streets. This community is made up of 4 separate buildings that feature courtyards, fountains, fish ponds and of course a pool.
The location is convenient to the Midtown MARTA station, as well as the 10th and Piedmont corner and Piedmont Park.
Again, limited inventory is found in this Midtown Atlanta condo community!
Midtown Atlanta Market Reports | Tuscany Condominiums | January 2013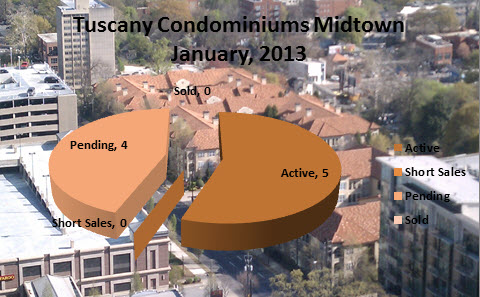 The sales activity in Tuscany Condominiums looks like this:
Five 1- Bedroom homes are Active Listings, with prices ranging from $110,000  – $150,000.
Four homes are Under Contract. A 1-bedroom at $119,000 and three 2-bedrooms ranging from $160,000 – $225,000.
No Homes Sold in January!
As a comparison, there were no homes sold in January, 2012.
Click Here for More Information about Tuscany Midtown Atlanta!
Do you need help with Midtown Atlanta real estate? Whether you are looking to Buy or Sell, we are here to help!