Midtown Atlanta has seen its share of changes over the years. In the 1930's to the 1960's…it WAS the happening place. Then things kind of got forgotten and she just stood still.
Fast forward to 2001-2009 and it's a whole other world. Gone are most of the landmark mansions that once dotted Peachtree Street. Stores, car lots and gas stations have been replaced with condos, restaurants and Starbucks. Midtown Atlanta now offers a variety of things to do, from museums to movies at the Fox, and some choice places to call home.
Spire Midtown Atlanta | A Midtown Atlanta Condominium Building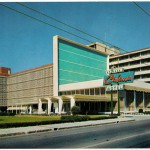 One such place, or building is Spire Midtown Atlanta. This prime corner at Peachtree and 7th was most recently home to the Cabana Motel. (Well, like it was there until the late 90's)  I only wish I had taken photos back then and known what was going to later become of this corner. I did find a picture of the motel. When Spire Midtown Atlanta was announced in 2006, it was the first new condo building since Metropolis Midtown, it's older cousin had been built in 2001. Needless to say, there was a land rush, or condo rush to snap up one of these. It was exciting to see this monster of a shiny blue-green glass and white concrete structure rise from the corner.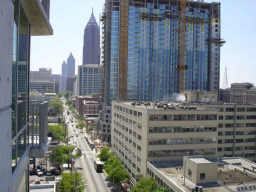 This Midtown Atlanta condominium community has 28 stories. The first 6 are a podium of the parking garage, and homes begin on the 7th Floor. These particular homes are unique in that they have massive terraces perfect for outdoor entertaining and taking in the city sights and  skyline lights at night. The amenities of the building, which include the Club room, movie theater, and pool are on the 7th floor. The Fitness center, cardio room and stretching rooms are located on the 8th Floor, connected by a circular stair case leading up to the 8th floor balcony. The club room has a wet bar and access to the outdoor deck where two gas grills are located.
There are 18 homes per floor. All the 1 bedroom floor plans vary in layout and sizes. There are 2 two-bedroom floor plans that repeat on each floor, and on the front of the building, on each corner is a 2 bedroom home. These were, and still are premium floor plans that offer sweeping views either of Midtown looking North or South down Peachtree Street to Downtown Atlanta.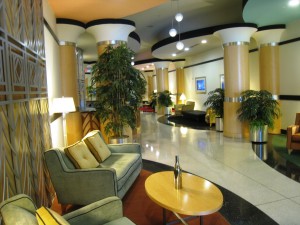 The lobby of Spire Midtown is one of the more unique and inviting lobbies of all Midtown Atlanta condo buildings. When it was first changed, it created quite a stir with the residents, since most of the decisions regarding colors and all were done by the Board of Directors. But it has since grown on the residents, and most are pleased with it now.
Spire as a state-of-the-art security and controlled access system for the building. Residents can only access the lobby, their parking floor, amenities floor and the floor where their home is located. Movement to other floors in the building requires a code that must be obtained from a resident on that floor.
The street level of Spire Midtown Atlanta offers conveniences to the residents! Five Guys Burgers, Fresh To Order, and Senior Petron's restaurant are but a few of the choices available here. Midtown Atlanta offers a variety of things to see and do for residents!
As of today, there are only five homes available For Sale in Spire Midtown. You can Search Spire Midtown Atlanta Homes For Sale Here.
One currently on the market is a very unique two bedroom that was created by combining a 2 bedroom and a 1 bedroom together. It has some incredible details, and it's current pricing makes it an attractive Midtown Atlanta condo! If you'd like to schedule an appointment to see this beauty, call me at 770.713.1505 or email me at Thom@MyMidtownMojo.com.  I'd be delighted to show it to you, and help you make it YOUR Midtown Atlanta home!
Spire Midtown Atlanta.
%%ds_Details|{"SearchSetupID":"30","query.MlsNumber":"5079607","query.SearchSetupID":"30","requester.AccountID":"11305","requester.ApplicationProfile":"WordPressIdxModule","requester.ApplicationVersion":"6.2.2","requester.ClientIpAddress":"5.161.118.72","requester.ClientUserAgent":"Mozilla\/5.0 (Windows NT 10.0; Win64; x64) AppleWebKit\/537.36 (KHTML, like Gecko) Chrome\/84.0.4147.105 Safari\/537.36","requester.PaginationUseActivationPath":"true","requester.PluginVersion":"3.17.1","requester.RequesterUri":"https:\/\/www.mymidtownmojo.com","requester.SearchSetupID":"30","requester.UtcRequestDate":"2023-09-26T17:24:56+00:00","responseDirective.ShowAdditionalDetails":"true","responseDirective.ShowFeatures":"true","responseDirective.ShowLocation":"true","responseDirective.ShowPriceHistory":"true","responseDirective.ShowSchools":"true","responseDirective.ViewNameSuffix":"shortcode","requester.Signature":"f5af83617c2855eec3dae7f513d353c96d330912"}|ds_end%%