Spire Midtown Atlanta has been, and continues to be, a popular choice among condo buyers in Midtown Atlanta.
Let's take a look at the market activity for Spire Midtown in September.
Spire Midtown Atlanta Market Report | September 2014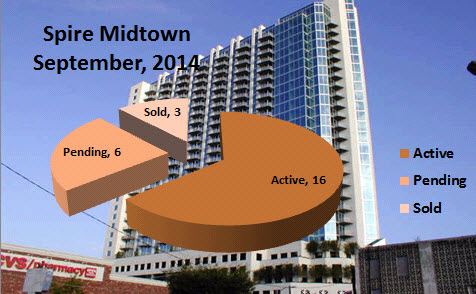 ACTIVE LISTINGS (16)
Eight 1 Bedrooms ranging from $180,000 to  $224,900
Eight 2 Bedrooms ranging from $345,000 to $419,900
PENDING LISTINGS (UNDER CONTRACT) (6)
Six 1 Bedrooms ranging from $168,500 to $239,900
SOLD (3)
Three 1 Bedrooms at $200,000, $209,000 and $220,000.  (NOTE: Sales were at 99% of List Price!)
NO 2 Bedrooms sold in September, but past months sales were in the $345-350,000 range.
In comparison, in September, 2013, there was just one 1 Bedroom sold at $180,000 and two 2 Bedrooms sold at $315,000.
Prices on the 1 bedroom homes have risen as the lower priced inventory has been bought up! 2 Bedrooms have slowed with several on the market at $345,000 to $359,000.
Want to know what your Spire Midtown Atlanta condo could sell for?