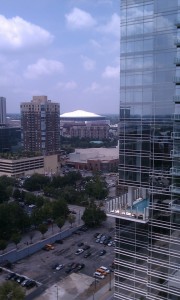 Some condominium buildings are….well they just are. Maybe there were converted from apartments or even an old office building. They can be made to look amazing or just so-so.
The same can be true with new construction. But in new buildings, designers had the opportunity to "wow" you as a home buyer. One such example is the W Atlanta Downtown Condominium Residences. From the location on the edge of Downtown Atlanta to the amenities (can you say pool to die for!!!) this is one amazing building.
A sign of the real estate times, the building was shut down and has since gained new owners and some equally incredible pricing! If you have ever considered condo living, now would be the time to look at the W Atlanta Downtown Condominium Residences. In fact, take a look, but then, remember to give me a call. As nice as they may be, those agents in the Sales Center work FOR THE SELLER, not for you! You need to have your agent represent you as a Buyer. And I would love to be your agent!
Sorry, but we couldn't find any results in the MLS that match the specified search criteria.