What's My Metropolis Midtown Condo Worth?
Metropolis Midtown Atlanta is not only the building that started the condominium building craze that now makes up Midtown, but it's still a great Midtown Atlanta living option. The community has recently renovated all the residential corridors and they look fabulous! (Trust me, they were in dire need of it!)
The amenities of Metropolis Midtown are still some of the best with a HUGE fitness center, pool deck and upper level grilling/entertainment deck overlooking Peachtree Street.
Let's take a look at the sales activity in September!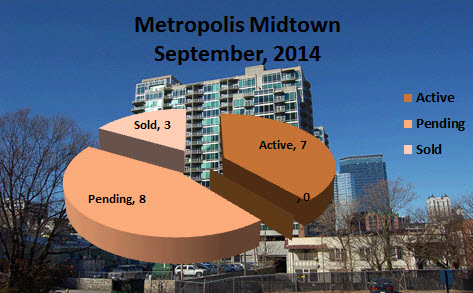 ACTIVE LISTINGS (7)
Six 1 Bedrooms ranging from $171,900 to $284,900
One 2 Bedroom at $334,900
PENDING LISTINGS (UNDER CONTRACT) (8)
Five 1 Bedrooms ranging from $142,900 to $249,000
Three 2 Bedrooms ranging from $227,000 to $324,900. (NOTE…the lower priced $227 is a 2 bedroom, 1 bath floor plan and they tend to sell for a bit less.)
SOLD (3)
Three 1 Bedrooms ranging from $169,500 to $244,900
In comparison, in September, 2013, there was just ONE 1 Bedroom (actually a studio floor plan) sold for $128,000 and Two 2 Bedrooms sold at $288,000 and $292,000.
As has been the trend in ALL of the Midtown condo buildings, the List, Under Contract and Sold prices at Metropolis Midtown Atlanta are up from last year! We do love reporting good 
What's My Metropolis Midtown Condo Worth? Want to know what your Metropolis Midtown condo might sell for?
Read more: https://www.mymidtownmojo.com/spire-midtown-atlanta-market-report-september-2014#ixzz3GyEs66EY