What's My Plaza Midtown Condo Worth?
Plaza Midtown is a unique living opportunity in Midtown Atlanta! Why? It's the ONLY Midtown Atlanta condo building where you can ride the elevator right to the grocery store…Publix! Pretty awesome when it's 15 degrees in January! but our September Market Report for Plaza Midtown Atlanta has some interesting numbers. Let's take a look and then discuss!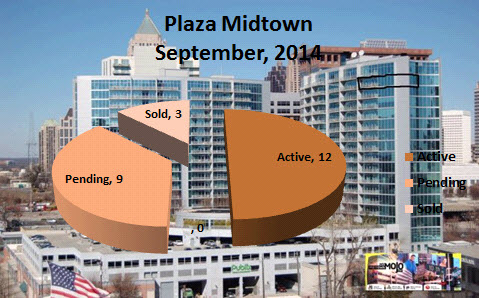 ACTIVE LISTINGS (12)
One 1 Bedroom  listed at $199,900
ELEVEN 2 Bedrooms ranging from  $299,900 to $384,900
PENDING LISTINGS (UNDER CONTRACT) (9)
Three 1 Bedrooms ranging from $211,000 to $249,900
Six 2 Bedrooms ranging from $259,000 to $349,900
SOLD (3)
One 1 Bedroom at $180,000
Two 2 Bedrooms at $340,000 and $350,000
In comparison, in September, 2013, there were NO 1 Bedroom sales and Three 2 Bedrooms at $305,000, $371,833 and $375,000.
So, In 2013, the sales price of 2 bedrooms was higher, but there was less activity. But in September, 2014, Plaza Midtown has the largest inventory of For Sale listings of any of the major condominium buildings. Why's this you ask?
I think it could be a combination of things. First off, market prices have risen to the point that owners can either now sell and not lose money, or at least break even if they want to move on. Another potential reason could be the construction of University House Apartments across Spring Street from Plaza Midtown. When this 20-story building is complete (the same height as Plaza Midtown) residents in the East Tower (950 West Peachtree Street address) that face West will somewhat lose their view. The new building is across the street and not right on top of Plaza, but it might be a factor for people selling.
Even with the number of homes For Sale, this is a great building and prices are still reasonable! I mean, $259,000 for a 2 bedroom???
What's My Plaza Midtown Condo Worth? Want to know what your Plaza Midtown condo might sell for?