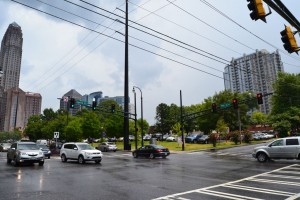 It looks like a much needed grocery store could appear in Midtown Atlanta…mind you not until 2018!!!!
Whole Foods Market, based in Austin, TX is in talks with The Related Group for a 60,000 sq. ft "urban store" on the site of their proposed 400-unit apartment building at 14th and West Peachtree Streets. The store would anchor Related's planned project which might include two towers built in phases. The "urban store" format indicates that the store would be on several levels, versus all one level as is common with grocery stores. If you want a cool idea of what this could be like, just venture to Columbus Circle in New York City!
Whole Foods has one store in Midtown, although it's on the fringe at Midtown Place across from the Ponce City Market on Ponce De Leon Avenue. This location would be somewhat more walkable for people in such Midtown Atlanta condo buildings as 1010Midtown, Peachtree Walk and even a Publix alternative to those in Plaza Midtown, where there is currently a Publix market. Get much further away and you'll probably see Midtown peeps in their autos…so look for a parking garage! (Will they figure out how to mask it by the time they build this one? Who knows?)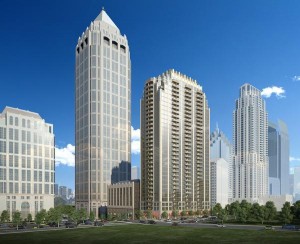 Back in May, 2014, the Atlanta Business Chronicle (ABC) reported that the Related Group had the 2.2 acre site under contract. There are currently two surface parking lots there. At that same time, the ABC article made comment about the ever growing pipeline of apartments on tap for Midtown Atlanta. Of concern is too many of the units hitting the market at once, according to analysts such as Haddow & Co. To many at one time That's could begin to soften intown rents, which today are well above $2 a square foot at the newest projects.
Keep in mind, this site is just across the street from the new Novare building, at 13th and West Peachtree. So keep your eyes open for yet another apartment crane on the Midtown Atlanta horizon.