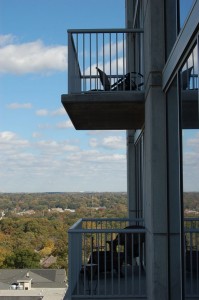 When you live in a condominium, you live in close quarters. I mean, it's not like a single family home on a one-half acre lot….you do have neighbors right next door. So, that is why you have covenants, conditions and restrictions (CC&Rs) which are the governing documents that dictate how the homeowners association operates and what rules you have to follow.
Condo Balcony Furniture And Why There Are Rules
As Super Storm bears down on the New Jersey coast line and points inland, we've felt outer winds way over here in Atlanta! Wind and high rises are not always a problem..but what's on your balcony…that is a whole other story! Rules about what you can have on your condo balcony vary widely from building to building. Those buildings like Viewpoint Midtown and Spire Midtown have even more strict rules because of the nature of the design of the balconies and how they cantilever out and are mostly exposed to the elements, including wind.
I took this picture today from the 14th Floor of Viewpoint Midtown. You should be able to see that a chair on each of the balconies has been blown over. The wind force 14 stories up in the air is very different from the street. Couple that with the wind circling around a building and patio furniture, it not heavy enough can be lifted up and over a balcony railing. Can you imagine the force that a piece of furniture would hit the ground 14 stories below? Lethal for sure, if it hit anyone.
I was once on the street in front of another condo building with a pool deck on the 7th floor. While stopped in traffic, an umbrella from one of the tables landed on the sidewalk. Thankfully, there was no one walking anywhere close, but again, it could of been a disaster.
See, there are reasons….Condo Balcony Furniture and Why There Are Rules!
For More Information on how I can best serve your InTown Atlanta Real Estate needs, please fill out the online contact form or call me at 770.713.1505.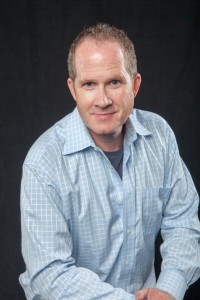 I specialize in InTown Atlanta Real Estate single family homes and condomiums. If you are planning to Buy InTown Atlanta real estate, let me help you explore all the possibilities available to you and help you find just the right home you will LOVE!
Need to SELL your Intown Atlanta Real Estate and look for new digs? I'd be happy to talk to you about the market, marketing your home or condo and having you sing the Pending Sales Song! Let me know how we can help you!
Please use the following links to Search for Homes by Intown Atlanta Neighborhoods or Zip codes!
Are you looking for a specific Intown Atlanta neighborhood to focus on? Contact Thomas Ramon Realty and we can set up a search for any specific neighborhood you are looking for!