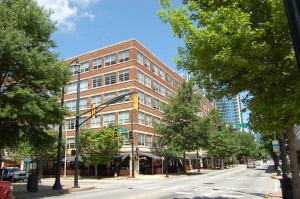 The real estate market in Midtown Atlanta has certainly changed in the past year! And so have the prices. As I work with parents of Georgia Tech students looking for Off Campus Housing, the options are still many, but the price is another story.
Georgia Tech Off Campus Housing — Cornerstone Village
Enter Cornerstone Village! Conveniently located on Peachtree Street, between 5th and 6th Street, it's an easy walk to Tech Square where students can catch the Tech Trolley for access further onto the campus if they don't want to walk!
What does Cornerstone Village offer the Georgia Tech student AND parent? First off, Location! As I just said, easy to walk to campus. Secondly, location! CVS Health is across the street from the community, and Einstein Bros Bagels JUST opened right in the building….convenient for the busy student to grab breakfast or lunch on the way to campus! There is also Big Peach Running if they are a runner, and El Escorpion restaurant for dinner right in the building.

Thirdly, but most importantly is VALUE FOR THE PRICE! Cornerstone has always been a value on Peachtree Street. Why you ask? Well, it's NOT the shiny, 28 story high rise that you find in it's neighbor, Spire Midtown. You don't have a 24-hour Concierge, but does a student need that? The community has a resort-styled pool and grilling area, perfect for your student to entertain friends. A fitness center (yes, the Campus Recreation Center is a killer fitness center for students) but this is perfect if they want to catch that 12 midnight work out and not be on campus! There is a movie room, perfect for watching a DVD related to a class project!
And values have gone up at Cornerstone Village! Two years ago, I sold a home to parents of Georgia Tech students and they paid $170,000 of the very same floor plan as listed below!
If you are looking for Georgia Tech Off Campus Housing — Cornerstone Village is one of your best options! Let me help you get a great condo for your students!
We're sorry, but we couldn't find MLS # 5338889 in our database. This property may be a new listing or possibly taken off the market. Please check back again.