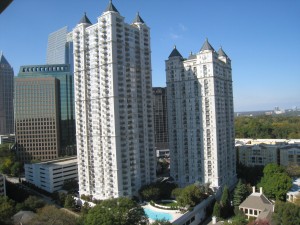 While many Midtown Atlanta condominium buildings make their mark on the skyline, two buildings hold a bit of a distinction on the skyline of Midtown Atlanta….Mayfair Renaissance and Mayfair Tower Midtown Atlanta.
Located on 14th Street, these two buildings are most notable for the signature rooftop cupolas, often seen in photos of the Midtown skyline from Piedmont Park.
While the buildings look almost identical from the exterior and the interior, the primary difference is…pool or NO pool. There is a pool for the Renaissance building, but the Tower Building does not have access to it. Before my real estate time in Midtown Atlanta, I think there was a feud between the "hatfields and the mcoy's" as it relate to the two buildings. They were not built at the exact same time, but do share a garage. But somewhere along the way, the pool became the property of the Renaissance, or always was….I'm not sure and I'll bet a long term resident of either building will be happy to correct me accordingly.
The buildings of Mayfair Renaissance and Tower Midtown Atlanta are much more traditional in nature than the newer Peachtree Street neighbors. Lobbys are finished with marble and rich woods. Both buildings are elegant.
In terms of market activity for January-June, 2010 compared to 2011, the sales are up, but….yep…the prices are down.
The Renaissance building is a great opportunity for investors since it is one of only a couple Midtown Atlanta Condominium buildings that still has leasing permits.  Here's the numbers for Mayfair Renaissance and Tower Midtown Atlanta combined.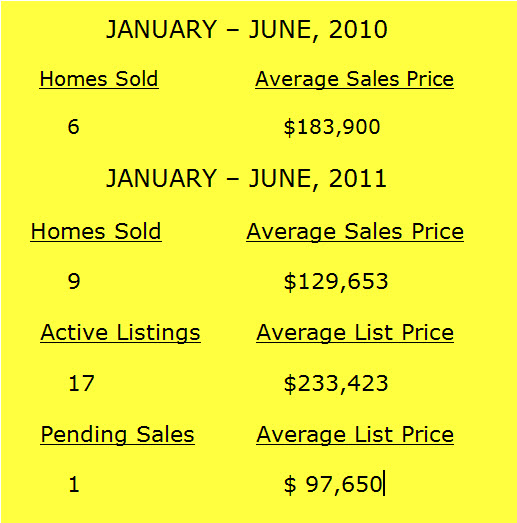 Search Mayfair Renaissance and Tower Homes For Sale Here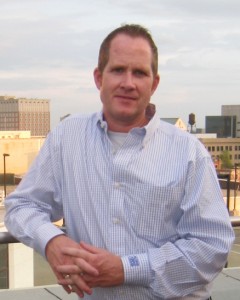 For More Information on how we can best serve your Midtown Atlanta Real Estate needs, please fill out the online contact form or call us at 770.713.1505.
We specialize in Condominium homes in Midtown Atlanta and other In Town areas of Atlanta. If you are planning to Buy or Sell real estate, let us help you explore all the possibilities available to you and help you find just the right home you will LOVE!
For a Quick Look at Midtown Atlanta Condominiums:
Midtown Atlanta High Rise Condominiums
Midtown Atlanta Mid Rise Condominiums
Perhaps you are interested in Historic Midtown? Take a look at Homes For Sale In Historic Midtown Atlanta