Midtown Atlanta Condos Under $100,000
Why Do People Live in Midtown Atlanta?
Midtown Atlanta is a central location in the metro Atlanta area, and the walkability of the area is a key factor in why people live in Midtown Atlanta. Also, often called the "Heart of the Arts," Midtown features the High Museum, Woodruff Arts Center and the Fox Theater, just to name a few. Step out the front door of your condominium and a host of dining options await you. From a walk in Piedmont Park to afternoon cocktails at Gordon Biersch Brewery on Peachtree Street, Midtown Atlanta is all about getting out on the streets and leaving your car in the garage. From most of the major condominium buildings you are walking distance to the CVS Pharmacy on 6th and Peachtree and the Publix Urban Market locate in the Plaza Midtown condominium building at West Peachtree and 8th Streets. All over Midtown Atlanta you'll find restaurants serving up everything from salads to sushi.
Looking for a Condo in Midtown Atlanta?
Interested in Condos For Sale In Midtown Atlanta Under $100,000? Click that link to find all the currently available condos for sale in this area of Atlanta.
What's the Neighborhood Like?
There is a variety of condominium homes to choose from in Midtown Atlanta. Finding one under $100,000 will certainly limit you to the buildings you can look at, but in that price range, you should be able to find a 1 bedroom ranging in size from 600-800 sq. ft. Most likely y0u won't find your home in a high-rise building, but more so in the mid-rise condo buildings. Your condo may, or may not offer a balcony to take in the sights and sounds of Midtown. In smaller buildings located in the Historic Midtown area you may also have on-street parking rather than a garage or even a parking lot.
What's Going on Nearby Midtown Atlanta?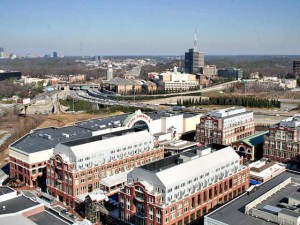 Midtown still has some work to do when it comes to the shopper….but never fear, you have options. Atlantic Station is located across the Downtown Connector at 17th Street.  It's just far enough, you will have to break your car, or bike out to visit this one. Lenox Mall and Phipps Plaza are located in Buckhead, and you can use the MARTA train to get to and from there if you wish. Midtown West is an up and coming area with shops and restaurants. And you are within walking (or a MARTA train ride) from Downtown Atlanta where you will find the Georgia Dome (Home of the Atlanta Falcons football team) the Phillips Arena (concert and basketball central) and just on the other side of Downtown Atlanta is Turner Field, home of the Atlanta Braves baseball team.
What Schools will the Kids Attend?
If you have school age children, Midtown is served by Springdale Park Elementary, Inman Middle School and Grady High School. There are also some private schools, such as The Children's School.
Now You Really Want to Find a Condo Here, Right?
If you are interested in the current Condominiums For Sale Under $100,000 in Midtown Atlanta, click on the link! My For Sale property information is a direct feed from the First Multiple Listing Service (FMLS) and us updated multiple times per day.