Neighborhood LIFT Atlanta – February 2012
Attend a new and innovative homebuyer event
You may get the help you need to make
homeownership a real possibility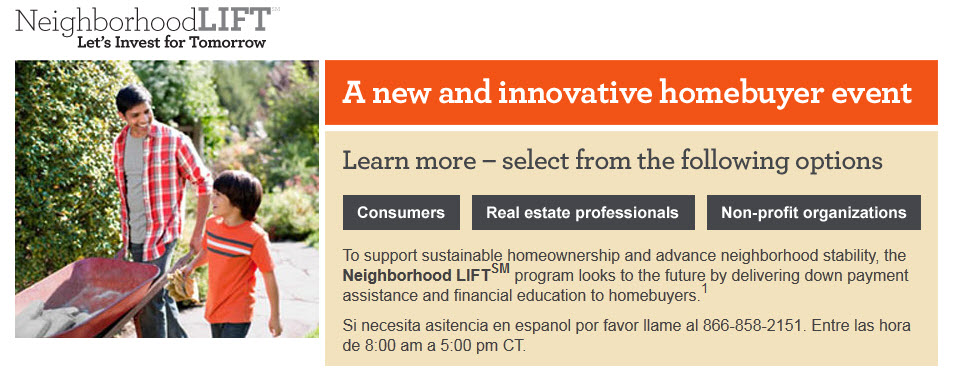 If you have been considering home ownership, one of the biggest challenges is coming up with the money for a down payment. You might have excellent credit, but have just not been able to get enough put away for the needed contribution you need to make when you purchase a home. Well, now you have an option!
Neighborhood Lift Atlanta is coming THIS weekend to the Georgia World Congress Center.
If you have a goal to become a homeowner, you won't want to miss the Neighborhood LIFTSM event, sponsored by Wells Fargo in collaboration with local non-profit organizations.
Date: February 10th and 11th
Time: 10:00 am to 7:00 pm
Location: Georgia World Congress Center, Exhibit Hall B1
285 Andrew Young International Blvd. NW
Atlanta, GA 30313
FREE PARKING: Please park in the Red Parking Deck.  The Red Deck is at the end of Andrew Young International Blvd.  Bring a copy of your event registration confirmation or tell the parking attendant that you're with the Wells Fargo Neighborhood LIFT Atlanta event and you will be able to park for free. https://www.gwcc.com/directions/directions/BuildingB.aspx
FOR MORE INFORMATION ABOUT NEIGHBORHOOD LIFT, visit the website!
You May View a Flyer for Neighborhood LIFT here!
Keep in mind, when you register, it will ask if you ARE, or ARE NOT working with a real estate agent. You should ALWAYS be represented when buying a home! The Seller is represented by the Listing Agent, and you should have a Buyer's Agent. Please feel free to contact me if I can answer any questions, or help you with the home buying process.