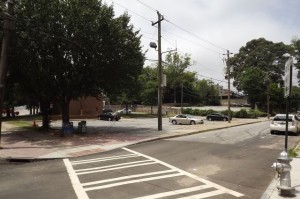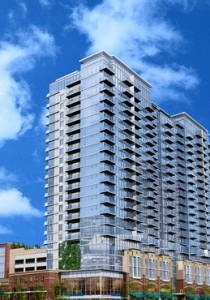 Well it seems that construction cranes will soon be part of the Midtown Atlanta skyline once again! Yippie! Two Luxury Apartment Towers are planned for Midtown Atlanta. And oddly enough, on the same side street off of Peachtree Street — 12th Street!
Daniel Corp (Birmingham, AL) and Selig Enterprises, Inc are set to break ground next month on an $82 million glass tower which will feature 20 stories, 330 homes and condominium-like amenities. Located at 77 12th Street, it's the next phase of the massive 12th & Midtown development started by the same group. Plans for the 17 acre development stalled after the construction of the Loews' Hotel, 1075 Peachtree (office tower) and 1010 Midtown Condominiums. Daniel Corp has leased out some of the unsold condominums as Midtown Atlanta condo sales have skidded.
This new construction is a good thing for Midtown Atlanta an several fronts. "Atlanta got caught up in the condo boom, but there's a shortage of market-rate apartments," said Steve Baile, Senior VP for Daniel Corp in an article in The Wall Street Journal. "We thought it was time to test the market." I'll agree with that one.
Secondly, new construction in an area is a signal that things are improving. And there is a shortage of rental units in Midtown Atlanta. Most people looking to rent in the area must rely on private rentals in condominiums buildings. Most all of the Midtown buildings are at rental capacity (HOA's restrict rentals to 20-25% of the homes in the building). There are but a few major apartment complexes in the Midtown area. And those buildings run a 7.2% vacancy rate.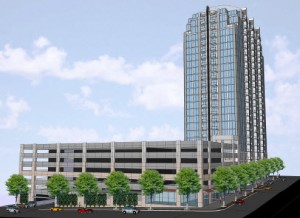 A second apartment tower has also been planned by Novare Group, made most "famous" for their condominium projects of recent such as Viewpoint, Spire, Metropolis, The Atlantic and Twelve Atlantic Station….just to name a few! Novare's Sky Tower will sit on 12th Street, between West Peachtree and Spring Streets. Those plans call for a 23-story building with 320 homes. Their plans also call for retail space along 12th Street.  If you've walked through this area, you know it needs some serious sprucing up, and BOTH of these buildings may very well help spur other businesses to open in this somewhat desolate part of Midtown Atlanta. All of the previous developments have focused on Peachtree Street, or close proximity.
Daniel Corp is planning to rent apartments starting at $1500 for a one bedroom and $2200 for a 2-bedroom. I've found some challenges in getting potential tenants to pay those kinds of rates in current Midtown Atlanta condo buildings, so it will be interesting to see if the proposed rates are indeed "market rates."
Construction cranes have already returned to Midtown. A crane towers over the site of the new Hilton Garden Inn/Homewood Suites that is going up at 10th and Willams (Downtown Connector).
Two Luxury Apartment Buildings for Midtown Atlanta!