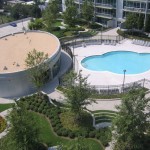 It's March in Atlanta….so what does that mean? We will soon be living up to our name "Hotlanta" as the summer temps head into the 90's and a humidity number to match! It can make for sticky days…but what better way to take off the summer heat than a dip in the pool. And to do that you would need a Midtown Atlanta Condo With a Pool!
I've often had a Midtown Atlanta Condo Buyer tell me that a pool is not that important to them when they are looking for a home. To this, I often reply, "You may not use the pool, but you always want to think about the day you want to sell, and what the next owner may want." Also, I've had buyers experience a Midtown Atlanta summer, and later say, "Oh, we are so glad you sold us a condo in a building with a pool." See, I told you so!
With a single family home and a pool in the back yard, you the homeowner, are responsible for the maintenance and upkeep. But in a condominium, the pool maintenance is handled by the homeowner's association (HOA) and is part of the monthly HOA fee you pay. So, you get to enjoy the pool, without having to do the work. How awesome is that!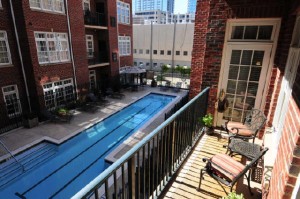 Midtown Atlanta Condo Pools do come in all shapes and sizes. While most of them are well thought out and designed with the user in mind, you will find an occasional pool that does not have a big "wow" factor. But even some condo buildings, like Cornerstone Village and Peachtree Lofts are making renovations to their pool areas. 805 Peachtree did some major changes to their pool area a couple years ago. Newer condo buildings like Viewpoint Midtown and Plaza Midtown Atlanta made their pool designs a major selling point of the community.
Interestingly enough, it is actually easier to tell you the Midtown Atlanta Condo communities that DO NOT have a pool, rather than list the ones that do. These Midtown Atlanta Condo buildings do not have pools:
Palmer Phelan
Biltmore House
Colony Square
Hanover House
33 Ponce
Reid House
Grinnell (Inman Park Area)
The DeSoto
Fourteenth Place
Piedmont Park West Lofts
Lofts @ The Park
Juniper Lofts
I may have missed a building or two, because they are smaller communities. But if you are interested in any Midtown Atlanta condo, and want to know if they have a pool, just let us know.
Now is the time to start shopping for your Midtown Atlanta Condo with a Pool!