For the Midtown Atlanta Market Report for March, 2012, Spire Midtown Atlanta has the most activity so far. With 10 homes on the market, and 11 Under Contract…their is movement in the building for sure.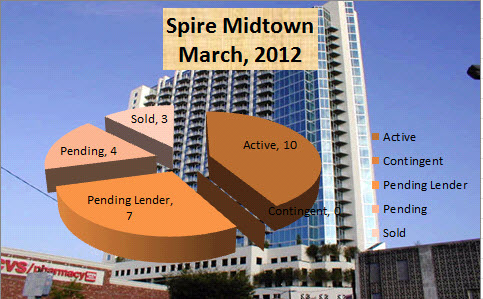 Probably the biggest challenge with a Spire Midtown Atlanta condo purchase is that most of the lower priced homes are short sales. If you are willing to ride out the short sale process, you could be instore for a great deal! The Active List price ranges from $138,000 to $725,000 for the just listed 2801 Penthouse!  Those homes Under Contract include 7 that are Pending Lender Approval, 4 that are Pending and three homes sold. The average sales price was $134,300 for these one bedrooms.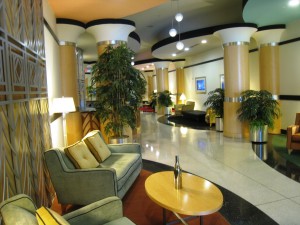 Spire Midtown Atlanta is a great Midtown living option….with 16 different floor plans to choose from, there is sure to be a floor plan or view to fit your condo buying desire. The building has some some impressive upgrades over time like the redesign of the lobby as well as finishing the elevator foyers from the garage floors. You might not think that a big deal, but considering you will probably use the elevator from the garage to your condo 75% of the time, it's nice for it to have some zen feeling and not feel like a loading dock entrance.
Spire Midtown Atlanta has exceptional amenities including a movie theatre, club room with catering kitchen, wet bar, pool table and Internet stations; roof top pool, grilling area and fitness center.
The retail level of Spire is almost sold out! From Five Guys Burgers to Fresh To Order to State Bank…most of your food needs are covered. You are just 1/2 block from the Midtown CVS, and only 3 blocks from the Publix Urban Market at Plaza Midtown!
Want to find your home in the sky at Spire Midtown Atlanta? Let me show you the options available today!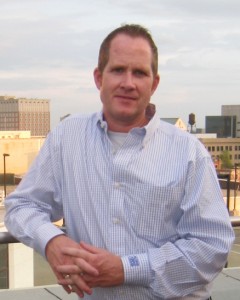 For More Information on how we can best serve your Midtown Atlanta Real Estate needs, please fill out the online contact form or call us at 770.713.1505.
We specialize in Condominium homes in Midtown Atlanta and other In Town areas of Atlanta. If you are planning to Buy or Sell real estate, let us help you explore all the possibilities available to you and help you find just the right home you will LOVE!
For a Quick Look at Midtown Atlanta Condominiums:
Midtown Atlanta High Rise Condominiums
Midtown Atlanta Mid Rise Condominiums
Perhaps you are interested in Historic Midtown? Take a look at Homes For Sale In Historic Midtown Atlanta