Search Homes For Sale Near Midtown MARTA Station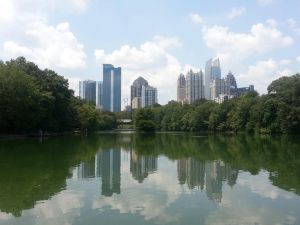 Here, you will find homes and condos listed For Sale that are near one of the four transit stations that are in the Midtown Atlanta area. Midtown is fortunate to have three (almost four) MARTA stations. Civic Center Station is technically outside of the Midtown boundary, but you will find condo buildings nearby like Twelve Centennial Park.
North Avenue, Midtown (located between 10th Avenue and Peachtree Place) and Arts Center Station (located adjacent to the High Museum) serve the Midtown area. From any of these three stations, you will find numerous condominium buildings, as well as Ansley Park and Historic Midtown where you will find new and historic single family homes.
Keep in mind, some buildings will be further from a station than others. For example, if you wanted to live in Luxe Midtown or The Mayfair, these will have a further walk to a station, than would Plaza Midtown or Cornerstone Village. This will be one factor to keep in mind as you search for a home.
The true benefit to living in Midtown Atlanta is you can park your car! You can walk to any of these transit stations, and then ride to work. You might pull your car out for that weekend running of errands, or if you are headed out to the 'burbs. But you can easily leave your car parked for weeks! You will find grocery shopping at Trader Joe's in the Midtown Promenade, Publix Market in Plaza Midtown, and opening in the future will be a Whole Food's in Apogee at 14th and West Peachtree Streets.
Additionally, you can catch a shuttle from the Arts Center MARTA station to Atlantic Station for shopping…offering another way to leave your car parked!
We can build a custom search for you based on any specific needs you may have for your new home! From bedrooms and bathrooms, building amenities, parking, as well as price…just contact us!
%%ds_Results|{"SearchSetupID":"30","directive.ResultsPerPage":"15","directive.SortOrders[0].Column":"DateAdded","directive.SortOrders[0].Direction":"DESC","query.BathsMax":"","query.BathsMin":"","query.BedsMax":"","query.BedsMin":"","query.Cities":"","query.Communities":"","query.Counties":"","query.DaysOnMarketMax":"","query.DaysOnMarketMin":"","query.ForceUsePropertySearchConstraints":"true","query.ImprovedSqFtMax":"","query.ImprovedSqFtMin":"","query.LinkID":"455637","query.ListingStatuses":3,"query.LotSqFtMax":"","query.LotSqFtMin":"","query.PriceMax":"","query.PriceMin":"","query.SearchSetupID":"30","query.TractIdentifiers":"","query.YearBuiltMax":"","query.YearBuiltMin":"","query.ZipCodes":"","requester.AccountID":"11305","requester.ApplicationProfile":"WordPressIdxModule","requester.ApplicationVersion":"6.0.3","requester.ClientIpAddress":"185.191.171.15","requester.ClientUserAgent":"Mozilla\/5.0 (compatible; SemrushBot\/7~bl; +http:\/\/www.semrush.com\/bot.html)","requester.PaginationUseActivationPath":"true","requester.PluginVersion":"3.17.0","requester.RequesterUri":"https:\/\/www.mymidtownmojo.com","requester.SearchSetupID":"30","requester.UtcRequestDate":"2023-03-22T12:54:51+00:00","responseDirective.IncludeLinkMetadata":"true","responseDirective.IncludeMetadata":"true","responseDirective.ListTabAlignment":"Left","responseDirective.ShortcodeResultsView":"","responseDirective.ShowLargerPhotos":"true","responseDirective.ViewNameSuffix":"shortcode","requester.Signature":"058a47c5ab8e10e5c06a7a6b5c09c776973ca8ad"}|ds_end%%