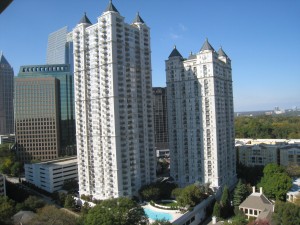 The Mayfair Renaissance and Mayfair Tower hold a prominent place in Midtown Atlanta as well. From the 14th Street location to the signature rooftop cupolas, these buildings are a contrast in style to the newer additions to the Midtown Atlanta skyline.
The Mayfair Tower was the first of the two buildings, built in the early 90's, and the Mayfair Renaissance came 10 years later. As a result, both buildings have separate homeowner's associations and amenities. Both buildings feature 24 hour concierge, fitness centers and garden areas. However, the pool belongs only to the residents of the Mayfair Renaissance and is an important consideration for any potential homeowner.
In looking at both buildings, also note the address for the Mayfair Renaissance is 195 14th Street, and 199 14th Street for Mayfair Tower.
Designed in more traditional styles, the Mayfair Renaissance and Mayfair Tower have extensive use of cherry mill work, doors and trim as well as imported and domestic marble floors in the lobby areas. Each building has its own library where residents may check out books as well as contribute to the already extensive collection.
The Mayfair Tower will have older and somewhat dated finishes, unless an owner has done a renovation of their home.
Guest Parking is limited for both buildings, but the Mayfair Renaissance has taken advantage of a software program whereby owners can reserve other owner's unused parking spaces for brief periods.
One block from Piedmont Park and two blocks from the Woodruff Arts Center are prime examples of why the Mayfair Renaissance and Mayfair Tower are in a prime Midtown Atlanta location.
Features of the Mayfair Renaissance include:
Eastside English Garden
Westside Garden with Italianate fountains
Fitness Center
Club Room
Screening Room
Conference Center
English Library
Swimming Pool (Only residents of Renaissance have pool access)
Underground Parking
%%ds_Results|{"SearchSetupID":"30","directive.ResultsPerPage":"10","directive.SortOrders[0].Column":"DateAdded","directive.SortOrders[0].Direction":"DESC","query.BathsMax":"","query.BathsMin":"","query.BedsMax":"","query.BedsMin":"","query.Cities":"","query.Communities":"","query.Counties":"","query.DaysOnMarketMax":"","query.DaysOnMarketMin":"","query.ForceUsePropertySearchConstraints":"true","query.ImprovedSqFtMax":"","query.ImprovedSqFtMin":"","query.LinkID":"274797","query.ListingStatuses":3,"query.LotSqFtMax":"","query.LotSqFtMin":"","query.PriceMax":"","query.PriceMin":"","query.SearchSetupID":"30","query.TractIdentifiers":"","query.YearBuiltMax":"","query.YearBuiltMin":"","query.ZipCodes":"","requester.AccountID":"11305","requester.ApplicationProfile":"WordPressIdxModule","requester.ApplicationVersion":"6.2.2","requester.ClientIpAddress":"52.167.144.171","requester.ClientUserAgent":"Mozilla\/5.0 AppleWebKit\/537.36 (KHTML, like Gecko; compatible; bingbot\/2.0; +http:\/\/www.bing.com\/bingbot.htm) Chrome\/103.0.5060.134 Safari\/537.36","requester.PaginationUseActivationPath":"true","requester.PluginVersion":"3.17.1","requester.RequesterUri":"https:\/\/www.mymidtownmojo.com","requester.SearchSetupID":"30","requester.UtcRequestDate":"2023-09-25T10:18:54+00:00","responseDirective.IncludeLinkMetadata":"true","responseDirective.IncludeMetadata":"true","responseDirective.ListTabAlignment":"Left","responseDirective.ShortcodeResultsView":"","responseDirective.ShowLargerPhotos":"true","responseDirective.ViewNameSuffix":"shortcode","requester.Signature":"5e52527b9db28c38ad70b1e787fb1612016ac075"}|ds_end%%