Our next "look" at off campus housing options for Georgia Tech students and Georgia Tech Condo Housing takes us to Metropolis Midtown. This building could sort of be called "the one that started it all" with regards to what is now high rise living in Midtown Atlanta. A great building, and another excellent choice for parents and students from Georgia Tech who are looking to make a real estate investment while attending school.
Metropolis Midtown Atlanta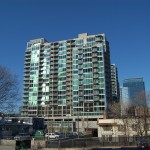 This addition to the Midtown Atlanta skyline arrived in 2002. Metropolis Midtown consists of two towers, separate on the 6th Floor by the pool deck and Club Room. There are some 498 homes, ranging from studio's to one and two bedroom homes. At the time of construction, this was THE new option in Midtown. You wanted new, you bought at Metropolis. The building has numerous studio floor plans and as a real estate investment, you want to look carefully at what type of condominium floor plan you purchase. Both from a usability standpoint, but also from a resale perspective.
While a studio-type floor plan (a home where there are no walls separating living and sleeping areas) might work for an individual, it can be challenging for two people when there is not a clear division of space. But, Metropolis Midtown still offers one and two bedroom floor plans that are great options for Georgia Tech Condo Housing.
The building features the security system that Novare Group became noted for in their follow up buildings, Spire Midtown and Viewpoint Midtown. Controlled access lobbies, elevators and floor access provide parents and students both the comfort of knowing that not just anyone can enter the building. A 24 hour Concierge is available in the lobby to great guests as well as accept packages and dry cleaning for residents.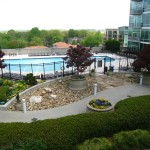 The Amenities Deck, located on the 6th Floor features a pool, grilling areas and a separate building which has the Club Room and Fitness Center. This particular design did not include a movie theater which you now find in the newer buildings. However, there are several flat screen TV's in the club room area.
Metropolis Midtown Atlanta retail includes Taco Mac, Jimmy John's and the UPS Store. Currently there are a couple vacant spaces with the departure of YES Home, and Silk Restaurant.
This map show the location of Metropolis Midtown Atlanta in relation to the Georgia Tech campus…
Metropolis Midtown Atlanta. A great Georgia Tech Condo Housing option to call home while your student is attending Georgia Tech. And perhaps a future weekend get away for the Georgia Tech Parent once the student(s) has moved on.
If you would like more information about this Midtown Atlanta Condominium community, please contact me!
Search For Metropolis Midtown Atlanta Homes For Sale
Did you miss one of our other posts about Georgia Tech Condo Housing? Here is a current list of posts: