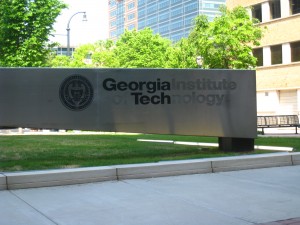 I am often contacted by students at GATech or parents of Georgia Tech students about Georgia Tech off-campus living options. And many ask about condos in the Tech Square (Technology Square) area of Georgia Tech.
The expansion of GATech into the Midtown Atlanta footprint has been going on for many years. As a result, there are not many parcels of land for construction of new condominium buildings close to Technology Square, or any part of the campus. But that does not mean you do not have options for living close to Georgia Tech.
THE closest Midtown Atlanta condominium building to Technology Square is Mid City Lofts. This building is located on the corner of 6th and Spring Streets and is directly across the street from Tech Square. 1 bedroom homes in Mid City Lofts start in the mid to upper $100's. There will be occasional rental opportunities in this building as well.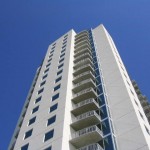 Your next closest building is The Biltmore, but this is a much smaller building with minimal amenities. Home vary in size here as do the prices. The next best option for students and parents alike is Cornerstone Village. Located just 2 blocks from Tech Square, Cornerstone Village has a variety of 1 and 2 bedroom floor plans, and is a popular condo community for GATech students to rent in. This past year, the community had some amazing foreclosure sales as low as $50,000! For a condo in Midtown Atlanta, that is amazing! Now, (2014) 1 bedrooms are selling in the $100's, so you could say the market has "bottomed out" for Cornerstone Village.
After these buildings, you hit what I call the "big 4" of Spire Midtown, Viewpoint Midtown, Metropolis and Plaza Midtown. All of these buildings have state-of-the-art security and access systems, amenities to include pools, fitness centers, movie theaters and club rooms.
The map below shows the Tech Trolley route through Midtown Atlanta, and the red circles indicate the location of the condominium buildings in Midtown. As you can see, the highest concentration of buildings is South of 10th Street and more convenient to the GATech campus.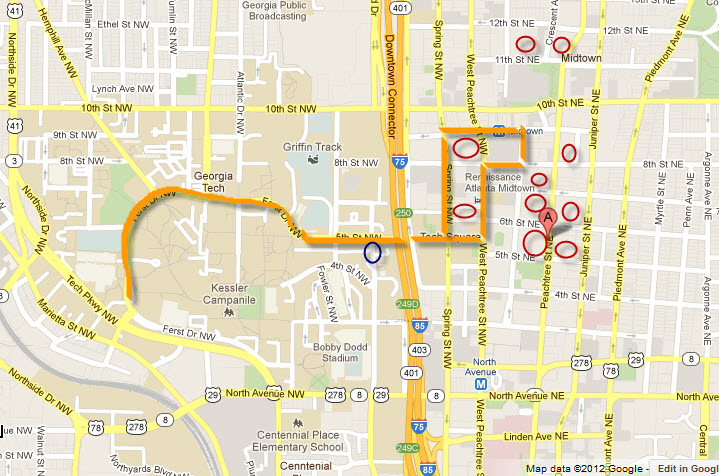 If you are looking to invest in Midtown Atlanta condominiums, and looking for Georgia Tech Off Campus Housing for your son or daughter to live in while attending GATech, I'd be happy to show you your options and what may best fit your needs!