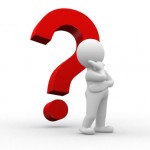 Daily, we get calls from potential home buyers and renters who have found a listing here at MyMidtownMojo.com. We may get asked a question about that listing that we don't know, and will reply, "That is not our listing, but we can get the info for you."
And then the next question or statement is…
But the Listing Has Your Name On It!
I have to often remind myself that the real estate consumer may not know, or understand how real estate information (in this case listings of homes For Sale or Rent) gets on the Internet, and more importantly, on MyMidtownMojo.com
Simply put, most all real estate brokers agree to share listings through a process called IDX (Internet Data Exchange). This means that when John lists his home with MainStreet Realty, he is agreeing to have that listing be available to be shown to all other brokers. First, as agents, we see it directly in the MSL (multiple listing service) to which we subscribe. But from there, is where the IDX portion kicks in, and that listing can then been seen virtually on hundreds of websites.
All of this is a good thing for BOTH the Seller and the Buyer. First, the Seller is getting exposure of their home or condo worldwide. A potential home buyer from Los Angeles looking to relocate to Atlanta can look at all the homes available in Atlanta right here at MyMidtownMojo.com without having to look a countless other sites. Of course the same is true for any other real estate website. For the home Buyer, as I just suggested, they can see all of the available homes in the Atlanta area.
How does this look? First, here is a screen capture of a listing as viewed here on our site.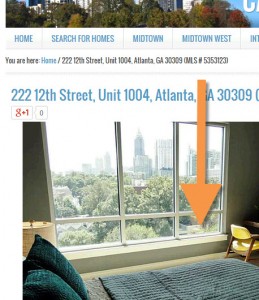 The orange arrow indicates that you would "scroll down" the listing to view the additional details about this particular listing. At the bottom, you will find this…

So while the potential buyer is interested in this listing, it is being provided by the named brokerage.
This is why you will most often find a real estate agent asking you "Are you currently working with a real estate agent or have a relationship (brokerage agreement) with an agent?"  Why do we ask?
If you just found the above referenced listing on our site, and called me, I would want to know that I could represent you as the BUYER of this listing as I'm not the actual LISTING AGENT as indicated at the bottom of the listing. If you already are working with an agent, we would respect that relationship and direct you back to your agent to get the answer to your questions.
As you look at various listings here at MyMidtownMojo.com, it is our goal to provide you with the most complete information about the Midtown Atlanta area, which is our primary focus. So as you find listings for the various buildings, we have pages here on our site that will give you more information about that particular building.
The listing has our name on it and we would be happy to assist you in viewing that home, or any others you may find! Just let us know!