Metropolis Midtown Atlanta set the stage for the growth of condominium buildings in Midtown Atlanta. While it may have been the first new high-rise on the skyline of Peachtree Street, it is still a great building with amenities for residents and some great restaurants as retail anchors at the street level.
In January, 2013, Metropolis Midtown Atlanta saw a decrease in the number of condominiums For Sale and an increase in the number of homes that are Under Contract! This is another sign of the tightening real estate market in Midtown Atlanta. Buyers have limited homes to choose from, and if priced right, new listings quickly go Under Contract, often with multiple bids!
Midtown Atlanta Market Report | Metropolis Midtown | January 2013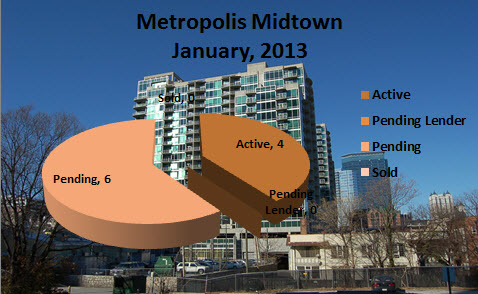 Let's look at the activity in January…
ACTIVE Listings One Bedroom  — 3 ranging from $149,000-$199,000

ACTIVE Listings Two Bedroom — 1 at $290,000
UNDER CONTRACT Listings One Bedroom — 4 ranging from $110,000-$175,000
UNDER CONTRACT Listings Two Bedroom — 2 with one at $269,900 and a Penthouse at $499,900.
SOLD Listings — There were no sales in January, 2013.
In comparison to 2012, Metropolis Midtown had Two 1 Bedrooms sold at $109,800 and 1 Two Bedroom at $456,000.
The one bedroom home prices are on the rise in this Midtown Atlanta condo building!