I like history. I like old things. I grew up around antiques. My parent's home was wall-to-wall full of them until my Mom's house burned down in 2005. I have a new appreciation for things from the past that have been lost….photographs, family heirlooms, and such.
Chamblee's Antique Row District Holiday Open House December 1-2, 2012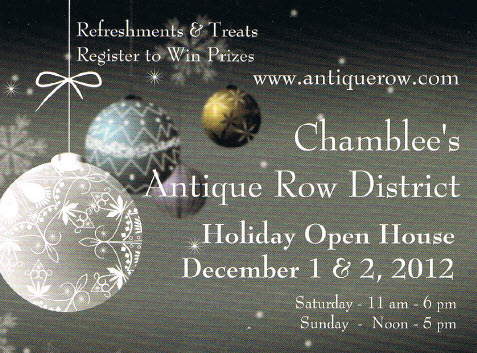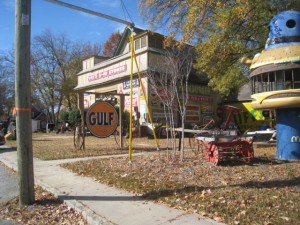 Whether you are an antique lover or not, a trip through an antique store can bring back lots of memories! And I've got JUST the time and place in Atlanta for you to take that trip down memory lane, and maybe even pick up a holiday gift! Chamblee's Antique Row District Holiday Open House! Saturday, the stores will be open from 11am – 6pm and again on Sunday from Noon-5pm.
There will be refreshments, treats and an opportunity to register to win prizes! You can visit the Antique Row website here!
As strolled through the Broad Street Antique Mall as I took pictures for this post, and WOW, what a collection of items! Mind you, this is a "mall" with numerous dealers under one roof, but, just look at the list of particpants:
Antique Factory
Assistance League of Atlanta
Atlanta Antique Gallery
Atlanta Furniture Restoration
Atlanta Vintage Books
Blanton House
Broad Street Antique Mall
Chamblee Antiques & Collectibles
Consignment Furniture Depot
Estate Gallery
Gone To The Dogs
My Sister's Closet
Rust 'n' Dust Antiques
St Vincent dePaul Thrift Store
The Treasure Mart
The UPS Store ( Ha Ha….just down Broad Street and ready to safely pack and ship the treasure off for Santa!
Maison Robert
Zen Tea
Frosty Caboose
Chamblee's Antique Row District Location
WHEW! I don't think I even realized how many stores are part of the Chamblee Antique Row District! I'm even going to venture back! And if you live in Midtown Atlanta, and don't want to break out the car (you might need the space to bring home your treasures, but…) you can take the MARTA Gold Line to Doraville, and exit at the Chamblee Station. You will have to exit the station, walk to Chamblee Tucker Road, turn right under the tracks, and then right on New Peachtree Road, and walk to the District from there. It's a nice  walk, past 5300 Lofts, and some of the historic store fronts that face the railroad tracks. (Another trip back in time!)
All this, and inside of Atlanta! Who knew!?
Come check out the Chamblee Antique Row District Holiday Open House, December 1 & 2! On your way back to the MARTA station, or if you are driving, be sure to stop at the Frosty Caboose for a treat. (Hopefully it will be a warm winter day for ice cream!) If you're hungry, maybe a visit to Five Guys Burgers in Chamblee Plaza will be in order!