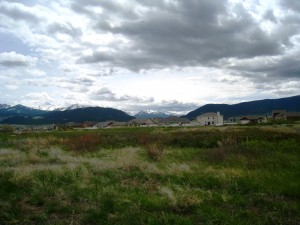 If anyone ever tells you that being self-employed is the best thing since sliced bread…well they have part of it right.
I'm actually in Montana this week on my annual family visit. Unfortunately, due to the distance (and usually the stupid riduclous cost to fly here) I only make it once a year. Everyone says I'm on vacation. Ok, first off, visiting your family and stayin with your Mom where you have no Internet access and sit at the dining room table most of the day is NOT  A VACATION!  Secondly, when you run a one-man show as I do in real estate, it's hard to just turn off the lights, lock the front door and say "Gone On Vacation." I know many do, but it's pretty hard for me!
Internet marketing is working 24/7, just as it should be. I have rental listings that need to be leased. I've got closings the end of the month that have admin work to be done on them. Email comes to my phone. And I grew up in a business that you answered the phone, and it DID NOT go to voice mail until they spoke to a live person first. So, I answer my phone when it rings.
It makes for lots of challenges. As I mentioned, my Mom does not have Internet. Last year, a really nice neighbor gave me their wireless password (they lived across the street) and I could visit with my Mom, sit at the dining room table, and still get work done. Those people have since moved away. A new neighbor next door was not so willing to offer up the use of their wireless. So, I've been at McDonald's every morning for 2-3 hours catching up on email, and such. Strangely, today, a rash of emails went out off of my Yahoo account, meaning I think my account got hacked. So, I've found another location, and have made a few password changes. That was not easy!! I have so many things set on auto-pilot so it even took me some time to figure out the old passwords so I could change them. But, got that done, and we'll see how many more emails I get back from people I know.
Real Estate on the Road! Whoopie!