I was surprised when I was showing condos at Metropolis Midtown Atlanta last week to find their club room "gutted" and under going renovations! How exciting! If I get more info on the plans, I will be sure to share them!
The Midtown Atlanta Market Report for Metropolis Midtown for March 2012 is like several of the other Midtown Atlanta condo buildings….low inventory and homes on the move! Good news for Sellers, and a sense of urgency for Buyers if they are waiting….you never know what the inventory will be next month!
But, let's look at the Midtown Atlanta Market Report for Metropolis Midtown Atlanta: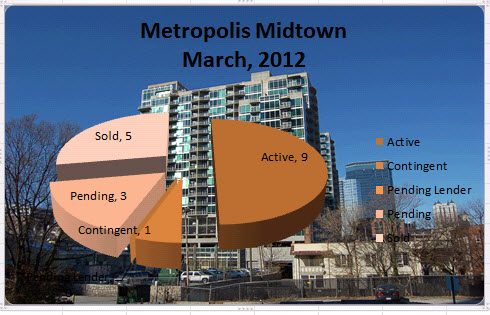 There are 9 Active listings with a price range from $129,000 to $599,000. (The high price is a Penthouse) Speaking of Penthouses, one closed in March at an amazing $1 MILLION! It was a 4 bedroom combined unit. AND it was sold by the listing agent….nice!
There is one Contingent Contract, 2 homes Pending Lender Approval (short sale) 4 homes Pending with prices ranging from $135,000-$189,000 and 3 were sold in March, 2012 with an average sales price of $127,500.
Metropolis Midtown Atlanta was the first "new" condo building in Midtown Atlanta by the condo developer Novare. While they seemed to kick it up a notch with the follow ups, Spire Midtown and Viewpoint Midtown, Metropolis Midtown Atlanta has some pretty cool features of it's own. It's the only Midtown Atlanta condo building with a porte- cochere driveway entrance on the rear of the building. This is great for dropping off or picking up people! There is still a lobby entrance/exit from Peachtree Street.  The Lobby features soaring ceiling with beautiful tile and wood work. The two residential towers share the lobby and 24-hour Concierge.
The amenities for Metropolis Midtown are located on the 7th floor, and feature a great pool, lounging areas, state-of-the-art fitness center and an upper level grilling area.
For the Midtown Atlanta condo shopper, there are a couple great 2 bedroom homes on the market right now. One, on the front corner of the building as incredible views of Peachtree Street looking South! Let me know if you'd like to take a look!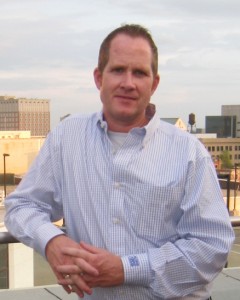 For More Information on how we can best serve your Midtown Atlanta Real Estate needs, please fill out the online contact form or call us at 770.713.1505.
We specialize in Condominium homes in Midtown Atlanta and other In Town areas of Atlanta. If you are planning to Buy or Sell real estate, let us help you explore all the possibilities available to you and help you find just the right home you will LOVE!
For a Quick Look at Midtown Atlanta Condominiums:
Midtown Atlanta High Rise Condominiums
Midtown Atlanta Mid Rise Condominiums
Perhaps you are interested in Historic Midtown? Take a look at Homes For Sale In Historic Midtown Atlanta