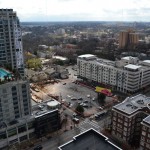 805 Peachtree saw some limited sales activity in September this year.
In looking at this building to purchase, or sell, future Buyers and Sellers on the North side of the building will have to be prepared for possible lower values as a new building has finally been proposed for the vacant lot adjacent to 805 Peachtree. The building is proposed to be 36 stories and will pretty much block any views that current North-facing homes have. Something to keep in mind for sure.
Let's take a look at September's activity.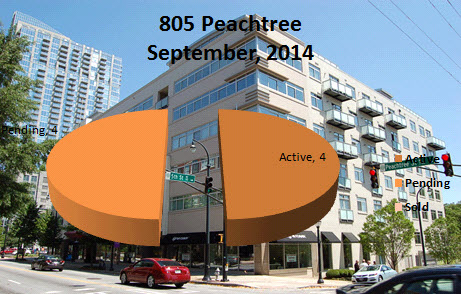 ACTIVE LISTINGS (4)
Three 1 Bedroom homes ranging from $199,000 to $209,000
One 2 Bedroom home listed at $549,000
PENDING LISTINGS (UNDER CONTRACT) (1)
One 2 Bedroom home listed at $359,000
SOLD
There were no sales in the building this month
In comparison, in September, 2013, there was one 1 Bedroom sold at $197,000 and one 2 Bedroom sold at $262,500. This sales price, compared to the one above that is Under Contract certainly shows an increase in price of 2 Bedroom homes. It is important to keep in mind that the floor plans vary in this building, and considering homes start almost on the 1st floor (you go up a set of steps from the lobby to get to the one section) you will have some variation in values.
It will be interesting to follow this building and if the new construction next door indeed moves forward, to see what happens with values.
What's my 805 Peachtree Condo Worth? Want to know what your 805 Peachtree condo could sell for?
Get your Complete and Accurate Home Value Report HERE