We often wonder who will occupy all these new apartments coming into the Midtown Atlanta area. Ahhh….here is one clue!
Accenture to Add 800 Midtown Jobs at Tech Square's Centergy Building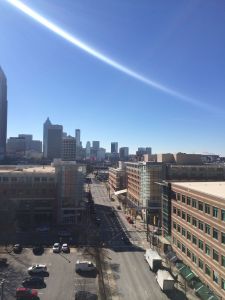 Accenture, a professional service company is planning a major expansion in Midtown…that will add some 800 jobs! The addition will happen in Tech Square's Centergy building, where Accenture will add some 40,000 sq. ft. to their existing 33,000 square feet.
Part of the expansion — which will make the company the largest tenant in the 14-story tower — is the opening of a 30,000 sq.ft. "innovation hub." The company has indicated they want to open 10 such centers by 2020.
The Atlanta innovation center will focus on programs like web and application development along with other IT services.
Employees of Accenture will have numerous housing options to consider! From several new luxury apartment towers to existing condominium buildings like Viewpoint, Spire or Plaza Midtown…all within in easy walking distance of Tech Square and the Centergy building.
If you are an employee, and need help finding a new home here in Midtown Atlanta for your new position at Accenture, give us a call. Or complete the form below and will be in touch with you as soon as possible. We look forward to making your move to Midtown Atlanta as easy as possible!